Newsletter - July 2, 2019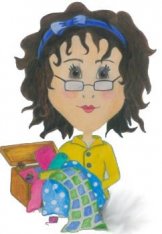 SHARYNN'S QUILT BOX
890 S. STATE STREET
P.O. BOX 1041
NORTH VERNON, IN 47265
812-346-4731
July 2, 2019
A reminder that we will be closed on July 4th and will reopen on July 9th at 10 a.m. This will give our employees a break from the busy schedule we've had this spring! Thank you for your continued business. Please have a safe and fun holiday weekend!
There will be NO UFO club on Saturday, July 6th. We will resume UFO on August 3rd. Please join us then.
Sharynn's Stitching Friends will meet on Saturday, July 13th at 9 a.m. Please be sure to bring your Show 'n' Tell. We love seeing what you've made.
Attention Embroidery Class members: in making the "rind" for the large watermelons, I found that the measurements were a bit "off". The book says to cut 1 ½" x 21". I (Pat) found that this was not long enough to give you a nice ruffle. So you might want to adjust that measurement. This is just a heads up for you.
ACCUQUILT'S CHRISTMAS IN JULY SALE…60+ DIES ARE ON SALE!! Sale began July 1 and ends July 31, 2019. Come in see what we have as this sale is limited to what we have IN STOCK. NO SPECIAL ORDERS. Discount will be taken at the register.
We have lots of "new" fabrics on the SALE racks including flannels. If you are thinking about Christmas blankets for the kids or grandkids, now is the time to get that flannel.
Have a happy and safe 4th of July weekend. We will be closed from Thursday, the 4th until 10 a.m. on July 9th.