Newsletter - July 31, 2019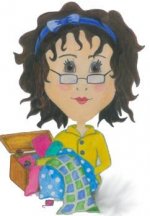 SHARYNN'S QUILT BOX
890 S. STATE STREET
P.O. BOX 1041
NORTH VERNON, IN 47265
812-346-4731
We are back! I want to thank everyone for all the thoughts and prayers after my surgery. I'm doing well and have started therapy and will be coming in to do the newsletters. Can't quite manage my regular schedule but I'm getting there.
For everyone who has signed up for the In-House Retreat in September, your balance (if you have one) is due by August 15th. If you aren't sure if you have a balance, please call. If you are still undecided about coming now is the time to "just do it"! The dates are September 20th and 21st and times are 9-9 on Friday and 9-3 on Saturday. We will provide you with lunch each day and the cost is $50.00. There will be specials just for you. Come and join us! We do have room for a few more.
We will begin a Christmas BOM featuring Lori Holt of Bee In My Bonnet Company. This is a must see! There are 42 Vintage Christmas Blocks that can be made in both 6" and 12" sizes. You can mix and match these blocks to make any size quilt you want. We will begin this BOM in September. You will receive a packet of fat quarters and a book with all the blocks. You can "pick and choose" which blocks you want to make. We will have more info in coming newsletters. Be watching! Borders and binding are not included in the kit but the fabric for these will be available.
Our Accuquilt Club will begin in September with an informational meeting on September 4th at 5:30 p.m. here in our classroom. Please call to reserve a spot. We can only accommodate 10-12 people. This class will be an evening class.
We will be hosting an Accuquilt Event in October. An Accuquilt Educator will be here. This is a 2-day event scheduled for October 18th & 19th. So put this on your calendar and save the date!!
UPCOMING EVENTS:
August 3rd – UFO Club 10-2. Let's get those UFO done!
August 10th – Sharynn's Stitching Friends 9 a.m.
August 15th – Deadline for registering and paying balance on IN HOUSE RETREAT.
August 28th – Sit 'n' Sew 1-4 p.m.