Skip Navigation
Website Accessibility
Newsletter - August 7, 2019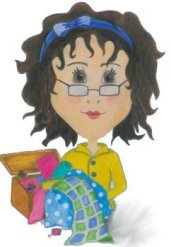 SHARYNN'S QUILT BOX
890 S. STATE STREET
P.O. BOX 1041
NORTH VERNON, IN 47265
812-346-4731
The kids are back in school and it's time to think about the upcoming Holidays. We have lots of new Christmas Jelly Rolls from Moda and Hoffman. These make awesome throws for gifts for that someone special. Come in soon as these won't last long.
Have you begun your Christmas list? Well, the Accuquilt GO! Big should be at the top. If you purchase one now you will receive a $100.00 rebate. Come in for a demo on this great tool for cutting quilt pieces with 99% accuracy. We will also be having an Accuquilt Club beginning in September.
Check out Facebook for lots of new pictures. Be sure to like and share!
Sharynn's Stitching Friends will meet this Saturday, August 10th at 9 a.m. Be sure to bring in Show 'n' Tell. We love how talented our gals are!
We will begin a Christmas BOM featuring Lori Holt of Bee in My Bonnet Company. This is a must see! There are 42 vintage Christmas blocks that can be made in both 6" and 12" sizes. You can mix and match to make any size you want. We will begin this in September so be sure to call in and sign up. Borders and binding are not included in the kit but we will have the fabric for these available.
Don't forget that on September 4th we will have an informational meeting at 5:30 p.m. here in our classroom on the Accuquilt Club.
More classes are in the "works" so be watching the newsletter and Facebook.