Newsletter - August 14, 2019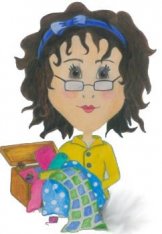 SHARYNN'S QUILT BOX
890 S. STATE STREET
P.O. BOX 1041
NORTH VERNON, IN 47265
812-346-4731
August 14, 2019
WOW!! We are getting so busy with upcoming events! It's already the middle of August. Check out Facebook for lots of pictures of all the new fabrics, Jelly Rolls, Layer Cakes, and lots more. It's time to get started on those Christmas projects.
We have received Wilmington Prints' newest line Rhapsody in Red. These are beautiful Layer Cakes, Jelly Rolls, and matching fabrics on the bolt. You don't want to miss out on these.
ATTENTION ALL ACCUQUILT GO! OWNERS! Save the dates of October 18th and 19th. An Accuquilt Educator will be here to show you all the secrets that you need to know to use your Accuquilt GO! Cutter machine to its fullest! This is a first for Sharynn's Quilt Box. We are very excited to be able to bring this event to you. It will be 2 days of fun and learning. So be sure to sign up early to secure a spot for this in-store event. More information to come.
At our Sit 'n' Sew beginning on August 28th, we will be doing the BOM Vintage Christmas. This is from 1-4p.m. Now to do Sit 'n' Sew you don't have to do the BOM but you can we will be here to help you out. We have 3 of the blocks made so come in and get in on the fun.
This is the last "call" for anyone wanting to get in on the In-House Retreat September 20th & 21st. We will have lots of fun and food and sewing (of course) and conversation! We are looking forward to seeing everyone. If you have not signed up and still want to, we have a couple of spots still available. Fifty dollars will get you in!! Come and join in the fun. We will be sewing from 9-9 on Friday and 9-3 on Saturday. We will have lunch catered by Dana Ochs on both days. We will have discounts and prizes! Don't be shy, come and join us!
We are working on new classes for this fall. So be sure to check for your newsletter each week.
I want to thank every one of you for all the prayers, thoughts and get well wishes. My knee is healing and I'm in physical therapy. I will be getting back to my regular schedule soon.
Pat