NEWSLETTER - AUGUST 28, 2019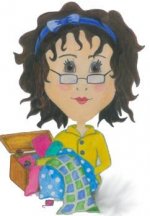 SHARYNN'S QUILT BOX
890 S. STATE STREET
P.O. BOX 1041
NORTH VERNON, IN 47265
812-346-4731
August 28, 2019
First, I want to clarify that I, Pat Rice had knee replacement surgery in July and I'm doing fine. We've have been asked about Sharynn. She is fine and in the shop! Thank you all for your concerns for both of us!
Please take note….We will be closed on Saturday, August 31st to give our employees a long weekend. We will re-open on Tuesday, September 3rd at 10 a.m. Thank you and have a great Labor Day Weekend!
We are so excited here at Sharynn's….AccuQuilt Educator, Rochelle Peters will be here for a GO! Beyond the Basics Event. This is an intermediate presentation full of tips and tricks on how to expand beyond the basics of die cutting. You will be familiar with GO! Qube Companion Sets-Corners and Angles as well as specialty dies to take your quilting to the next level. Insider techniques will be shared along the way.
Rochelle will also host a First Date with BOB Event. This presentation is designed to introduce you to the Block On Board (BOB) dies. BOB dies give you the ability to cut an entire block from a single die. This saves even more time when creating a quilt top and other projects. It is perfect for beginners who might be intimidated by the cutting process.
The fee is $10.00 per class and you will receive a $10.00 coupon upon arrival!
October 18, 2019
Class: Go! Beyond the Basics
When: 10a.m. to 12 noon
Class: First Date with BOB
When: 2p.m. to 4p.m.
October 19, 2019
Class: GO! Beyond the Basics
When: 10a.m. to 12noon
Where: Sharynn's Quilt Box
890 S. State Street
North Vernon, IN 47265
Call the shop at 812-346-4731 to register and reserve your spot.
Don't have an AccuQuilt GO! Cutter??? Between now and August 31st, we have Rebates on these fabulous cutters. Come in and let us demo them for you. There is one just for you. You can't beat these deals. Then you can take the classes and begin to "Cut Time. Quilt More"!
Lots coming up in September so mark your calendar for these upcoming events:
September 4th – Accuquilt GO! Cutter Club informational meeting at 5:30 p.m.
September 7th – UFO Club 10 a.m. to 2 p.m. Come and sew with us!
September 14th – Sharynn's Stitching Friends – 9 a.m. Come and bring your projects for us to see.
September 20th and 21st – In-House Retreat. We are now at capacity. We are planning to have another next year in the Spring. So if you were unable to attend this one, watch the newsletter for the dates!
Lots going on in October too! Harriett Carpanini will be here October 4th and 5th for classes on the Pro-Stitcher. You will need your lap-top or tablet only for these classes. These classes are advanced. Call to reserve your spot.
Have a great Labor Day Weekend! And remember we will be closed on Saturday, August 28th and reopen on September 3rd.