Newsletter - September 4, 2019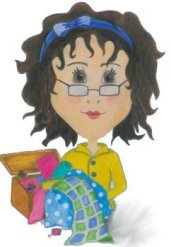 SHARYNN'S QUILT BOX
890 S. STATE STREET
P.O. BOX 1041
NORTH VERNON, IN 47265
812-346-4731
September 4, 2019
We hope that everyone had a great Labor Day Weekend. This always "signals" that summer is over and the Holidays are on the way! So time to get that sewing machine back out, get it cleaned and serviced (if needed) and start those projects. It is amazing how fast they sneak up on you!
AccuQuilt Go! Cutter BIG is on exclusive in store savings of $100! You can only get this savings by buying in store. The AccuQuilt GO! Cutter BIG is electric and will accommodate a 12" die or 2 smaller ones. This savings is valid only until 9-30-19. These machines are 99% accurate! You can cut time and quilt more!
We are so excited to be hosting our first AccuQuilt Educator Event in October. Rochelle Peters will be here for a GO! Beyond The Basics Event. This will give you tips and tricks on how to expand beyond the basics of die cutting. You will be familiar with GO! Gube Campanion Sets-Corners and Angles and specialty dies to take your quilting to the next level. She will share insider techniques.
Rochelle will also host a First Date with BOB Event. This presentation is designed to introduce you to the Block On Board (BOB) dies. BOB dies give the ability to cut an entire quilt block from a single die. This saves time when creating a quilt top and other projects. It is perfect for beginners who might be intimidated by the cutting process.

If you attend this event, you will be eligible to purchase an exclusive AccuQuilt GO! Die Arkansas Traveler-12" finished BOB. This die will not be available to the general public until next year. This event is a total Win-Win for you!!
The fee is $10.00 per class. You will receive a $10.00 coupon when you arrive that will be good on any AccuQuilt Die. Space for this event is limited so please call to reserve your spot. You can mail a check or come in.
Our most popular Janome machine is on Special Sale with lots of "goodies" to go with it! The Horizon Memory Craft 15000 package deal! This machine has 510 built-in stitches, 980 embroidery designs, and is WI-FI certified. In the goodies package, you will get an Apple MacBook Air, Artistic Digitizer, Full Featured Embroidery, Sewing and Crafting Software. It is PC and MAC compatible. Come in and see what this machine can do for you.
The newest machine in Janome's line is the Continental M7 Professional. This machine is designed to take you to the next level with your sewing. One of the best features of this machine is a 13.5" throat for quilting. It makes sewing easier and faster. We will have this machine in the shop soon so check in with us and come see what it can do!
We will have UFO Club this Saturday from 10-2. Come in and work on those projects that have just not gotten finished!