Newsletter - September 18, 2019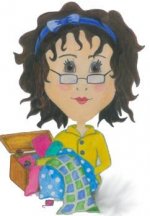 SHARYNN'S QUILT BOX
890 S. STATE STREET
P.O. BOX 1041
NORTH VERNON, IN 47265
812-346-4731
September 18, 2019
A few things about Sharynn's Quilt Box that you may not know:
We have been an Authorized Janome Dealer since 1998 and we service what we sell. We are here to help you long after your purchase. After your purchase, we offer a one-on-one class to help you get acquainted with your machine.
We are a Signature AccuQuilt GO! Dealer. These cutters are 99% accurate which means more time for sewing and quilting. We carry lots of dies and accessories for the cutters.
We are an Authorized Handi-Quilter Dealer and again we service what we sell. These long arm quilting machines do so many amazing things! Come in for a demo from Darrell. Handi-Quilter sells more long-arm machines than all other manufacturers combined. We also have Handi-Quilter classes twice a year.
Sharynn has over 25 years of experience. We have a very large selection of fabrics by top manufacturers….Moda, Northcott, Maywood Studios, Blank, Hoffman, Henry Glass, and many others. We are here to help you get the most from your sewing.
We service your machine in house and our "turn around" is usually only 2 days.
AccuQuilt GO! Cutter BIG is on exclusive in store savings of $100.00! The GO! BIG CUTTER is electric and will accommodate a 12" die or 2 smaller dies. This offer is only available in the shop and only until September 30th. Don't miss out!
Have you signed up for the AccuQuilt Educator Event? Rochelle Peters will be here in Sharynn's Quilt Box for 3 classes October 18th and 19th. This is a wonderful opportunity to learn what these cutters can do and get lots of tips and tricks on how to expand beyond the basics of just die cutting. She will share insider techniques that will take your quilting to the next level. These classes are perfect for persons who might be intimidated by the cutting process. You do not have to own a cutter to take the class. You might be thinking that you want one but aren't sure. So if that is the case, come and join in and find out just how easy it is to create a quilt using the AccuQuilt GO! System.
The fee for the class is $10.00 per class and you will receive a $10.00 coupon that can be used that day to purchase any dies (in stock only-no orders). Call or come in to sign up. If you call, we ask that you mail a check prior to the class.
Next Wednesday is Sit 'n' Sew here at Sharynn's. From 1 p.m. to 4 p.m. you can sew in our classroom. There is no charge for this and we are here to help if you need it.
Watch for next week's email…..Sharynn's birthday is coming up but you our valued customers will get the "presents"!!