Skip Navigation
Website Accessibility
Newsletter - September 24, 2019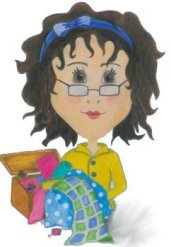 SHARYNN'S QUILT BOX
890 S. STATE STREET
P.O. BOX 1041
NORTH VERNON, IN 47265
812-346-4731
September 24, 2019
It's Fall y'all!! For some this is very welcome…for others we are sad to see Summer go. But the falling leaves, cool, crisp mornings do inspire us to begin our "winter" projects.
Halloween, Thanksgiving and Christmas are just around the corner and we have lots of beautiful fabrics to make you want to create those beautiful projects.
We want to thank everyone who came to our In-House Retreat! We had a wonderful time and we hope that you enjoyed it too. We did a lot of sewing, talking, and just having a great time. So thank you ladies!
We have a birthday to celebrate this week….It's Sharynn's Birthday on Thursday. Watch for an announcement via email and Facebook for what's on SALE!!
Sharynn's Quilt Box is sponsoring 2 events in the month of October. First is a Handi-Quilter Event October 4th & 5th with Harriett Carpanini. Times are 9-4 each day and the cost is $150.00 for both days. She will be teaching Pro-Stitcher. Space is limited for these classes so call early. You will need only your tablet or laptop.
The second event is the AccuQuilt GO! Cutter classes October 18th and 19th. Rochelle Peters will be here to teach "Go Beyond the Basics" 10 a.m. to 12 noon and First Date with BOB (Block on Board) 2p.m. to 4 p.m. on Friday. On Saturday there will only the Go Beyond the Basics class from 10 a.m. to 12 noon. Each class is $10.00 and upon arrival, you will receive a coupon for $10.00 off any AccuQuilt Die on that day only. Also, you will be able to purchase an exclusive die Arkansas Traveler -12" finished. This is a BOB die which means it's specially designed to cut one 4-color, 12" block in one pass thru the cutter. This die will only be available for purchase here on the day of class. Call and reserve you spot today. We do request that you pay for the classes in advance either by cash or check. If you have reserved a spot and not paid yet, please send or come in to pay. Thanks. This makes it easier for us to know for sure how many to plan for.
Sit 'n' Sew is tomorrow from 1 p.m. to 4 p.m. and there is no charge for this. So if you have a project that you want to complete just come on in and if you need help….we are here!
We have added more bolts to the sale fabric. So be sure to check your email or facebook tomorrow!