Newsletter October 2, 2019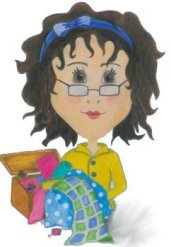 SHARYNN'S QUILT BOX
890 S. STATE STREET
P.O. BOX 1041
NORTH VERNON, IN 47265
812-346-4731
October 1, 2019
REMINDER………………
This weekend October 4th & 5th Harriet Carpanini will be here to teach Handi-Quilter Pro-Stitcher Classes both days. Hours are 9-12 and 1-4 both days. If you are signed up, you will need to bring a laptop computer with the latest version of Pro-Stitcher downloaded. If you aren't signed up yet, please do so as we only have a few spots left.
Don't own a long arm yet?? Darrell is having a special on the demo machines we have in the store. He is dealing on these so be sure to come in quickly.
Since we will be having the Handi-Quilter classes there will be NO UFO Club on the 5th. Sorry for this inconvenience. But you can come on the 30th for Sit 'n' Sew!
Today is October 1, 2019!! Where has the year gone?? On October 18th, Sharynn's Quilt Box will host Rochelle Peters of AccuQuilt GO! Cutters. This is a first for Sharynn's! Rochelle will teach 3 classes…2 on Friday and 1 on Saturday morning. She will teach "Go Beyond The Basics" from 10 a.m. to 12 p.m. on Friday and "First Date with BOB (Block on Board)" from 2 p.m. to 4 p.m.
On Saturday, she will teach "Go Beyond the Basics" from 10 a.m. to 12 p.m. Each class is $10.00 and when you arrive you will receive a $10.00 coupon for any AccuQuilt Die purchased the day of the class only. Also, you will be able to purchase an exclusive die…Arkansas Traveler 12" finished. This die is a BOB which means it's specially designed to cut one 4-color, 12" block in one pass thru the cutter. This die will only be available for purchase here on the day of class. Call and reserve your spot today. We do request that you pay for the classes in advance either by cash or check. If you have already reserved a spot and not paid, please send a check or come by the shop. This makes it easier to know how many to plan for.
Our T-shirt Quilt class will be October 23rd beginning at 1 p.m. Class fee will be $10.00. We will have more information later. Watch the newsletter. We do have 2 spots left! If you have already reserved your spot, please come in or mail a check. This guarantees your spot.
Mark your calendar for the 4th Annual 5 County Holiday Shop Hop—Santa Claus Trail! Dates are December 5, 6, & 7, 2019. The hours are 9-5 each day. Passports are on sale now and they are $5.00 each; $6.00 after the shop hop begins.
When you purchase your passport you will receive a free Santa pattern. This pattern has so many possibilities! Each shop will be giving away a $100.00 gift basket and the Grand Prize is 5-$50.00 gift certificates…one from each shop. This Shop Hop is doable in one day. It is a great time for a "girlfriend day out!" So get your passports early and join in the fun.
We have received lots of new fabrics. And our Moda rep was here last week and we have lots of new fabrics on order. These fabrics are just beautiful and we are so excited for everyone to see them.
We have also pulled more fabrics for the Sale Racks. Be sure to come in and check them out.
We still have kits for the Vintage Christmas by Lori Holt of Bee in my Bonnet Company. These kits include the book plus we have extras of the fabric alone. We have several 12" blocks done and hanging in the shop. This quilt can be made in 2 sizes 6" or 12" or a combination of the 2 sizes. There are 42 blocks in all but it can be made smaller if desired.