Skip Navigation
Website Accessibility
Newsletter - October 3rd - AccuQuilt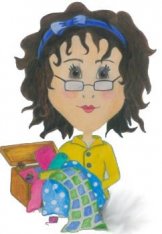 SHARYNN'S QUILT BOX
890 S. STATE STREET
P.O. BOX 1041
NORTH VERNON, IN 47265
812-346-4731
October 3, 2019
AccuQuilt GO! presents a two day in store event October 18th and 19th at Sharynn's Quilt Box. National Educator, Rochelle Peters will be here to teach us about our AccuQuilt GO! Cutters. Rochelle loves to try new techniques, gather inspiration and dream up new projects.
She will share tips and tricks to use with our cutters! The first class on Friday will be "Go Beyond the Basics". The afternoon class will be "First Date with BOB". This is about the dies that are called BOB for Block on Board. She will show us how to use these dies to make a block using just the one die.
The accuracy of this system is just awesome! If you don't own one, these classes are still open to you. You will see just how easy it is to "cut time and quilt more".
You can still call the store and reserve a spot. Just $10.00 per class and you will receive a $10.00 off coupon to be used that day when you purchase any die. As a participant you will also be eligible to purchase the exclusive Arkansas Traveler die that is only available to those individuals who take the classes. The die will not be available to the general public until 2020.
Call today. Or if you've already reserved your spot but have not paid, mail your check! We truly think this event will be very informative and fun.