Newsletter - October 8, 2019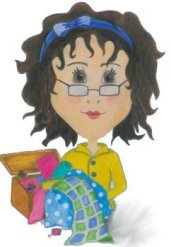 SHARYNN'S QUILT BOX
890 S. STATE STREET
P.O. BOX 1041
NORTH VERNON, IN 47265
812-346-4731
October 8, 2019
WOW!! It got chilly fast! Have you got a warm flannel quilt to wrap up in and stay warm? If not we have flannel on sale and you can make a flannel throw in no time. Just sew around the edges or tie it up! Warm as toast in no time!
Thank you to Harriett Carpanini for presenting a great Pro-Stitcher class here last Friday and Saturday.
Are you looking for a long-arm quilt machine? Our Handi-Quilter Demo machines are on special pricing. Come in and let Darrell show you how easy it is to put one of these quilt machines in your home for a price you can afford. Handi-Quilter is the best made quilt machine on the market and out sells all others. And when you purchase your machine from us, Darrell will set it up and teach you how to use it. Service is #1 with us! Let Darrell show you what it can do.
This Saturday, October 12th is our Sharynn's Stitching Friends at 9 a.m. Please bring your Show 'n' Tell and we will begin sign up for the Christmas Breakfast on December 14th.
October 18th and October 19th Sharynn's Quilt Box is hosting Rochelle Peters an AccuQuilt Educator. This is a first for us and we are so excited to bring this event to you. Rochelle will teach 3 classes…2 on Friday and 1 on Saturday morning. "Go Beyond the Basics" is from 10 a.m. to 12 p.m. on Friday and Saturday mornings. "First Date with BOB" (Block on Board) will only be taught on Friday Afternoon. And you don't want to miss this one. Each class is $10.00 payable in cash or check. Sorry we can't take Debit/Credit cards for this.
Also, if you attend you will be eligible to purchase an exclusive die…Arkansas Traveler 12" finished. This die is a BOB which means it is specially designed to cut one 4-color 12" block in one pass thru the cutter. This die will only be available for purchase during this event. You don't want to miss this. Call and reserve your spot today. We are looking forward to presenting this event for you.
You do not need to own an AccuQuilt GO! Cutter to take the class. But AccuQuilt has a Mail-In Rebate on GO! Fabric Cutters…$75.00 off the GO! Fabric Cutter Starter Set, the Ready. Set. GO! Ultimate Fabric Cutting System and GO! Big Electric Fabric Cutter. Offer is good until October 16th. Don't miss out on this. These cutters make cutting and sewing a breeze!
For T-Shirt Class participants…class will be October 23rd from 1-3 p.m. Here is what you will need to bring to class:
1) one clean T-Shirt
2) scissors – large
3) 12 ½" square ruler or 10 ½" square ruler - depending on the size you want your block to be
4) rotary cutter and small mat
If you have questions, please call the store (812-346-4731) for more information.
Sit 'n' Sew is October 30th from 1-4p.m. All UFO Club members are welcome to come and sew with us since we were unable to have UFO in October.
We will be doing our Christmas Open House in November and we have some great surprises planned. Watch the newsletter for updates on this.
Mark your calendar for the 4th Annual 5 County Holiday Shop Hop – Santa Clause Trail! Dates are December 5, 6, & 7, 2019. The hours are 9-5 each day. Passports are available for $5.00 each up to the day of the Hop and $6.00 day of the Hop. When you purchase a passport, you will receive a Santa pattern for free.
Each shop will give away a $100.00 gift basket and the Grand Prize is 5-$50.00 gift certificates…one from each shop. This Shop Hop can be done in one day and is a great "girlfriend day out"! So get your passports early and join in the fun.
Check us out on Facebook. We try to post new items every day! Like and share our posts. Thank you.