Newsletter - October 24, 2019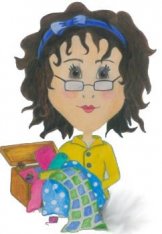 SHARYNN'S QUILT BOX
890 S. STATE STREET
P.O. BOX 1041
NORTH VERNON, IN 47265
812-346-4731
October 23, 2019
We want to thank all of you who attend the AccuQuilt Classes with Rochelle Peters. She did a wonderful job and we hope that she inspired you to take it to the next level and Go Beyond the Basics! We learned so many things that you can do with the cutter and dies. We posted lots of pictures on Facebook. Take a look and see the beautiful quilts that she brought to show. We have some samples in the store that we've made.
We have the GO! BIG Electric cutter that would make a wonderful Christmas present for someone! We have the READY! SET! GO! ULTIMATE CUTTING SYSTEM available. GO! Me and GO! Baby are on order.
Darrell still has a couple of demo long-arm machines on sale. If you are in the market, talk to Darrell! He has deals on these machines that make it hard to pass up! Come in and see what he can do for you.
CHRISTMAS OPEN HOUSE – Our Christmas Open House will begin on November 8th. We will have two weeks of specials and we are giving away a Janome sewing machine! More details to come! Be watching the newsletter for ways to win this great new Janome machine.
We are getting ready for the 4th Annual 5 County Holiday Shop Hop – Santa Claus Trail. The dates are December 5, 6, & 7. Hours are 9-5 each day. The passports are on sale now and are $5.00 now and $6.00 day of. When you buy a passport you will receive an exclusive Santa Claus pattern. We are in love with this "little fella"! He's so cute and there are so many possibilities for use.
Shops participating are:
Decatur County – Tree City Stitches
Jennings County – Sharynn's Quilt Box
Ripley County – Quilter's Nook
Rush County – In Stitches
Bartholomew County – Sew Crazy
There are lots of prizes and it's just plain fun! Each shop will have a basket valued at $100.00 to give away along with lots of other prizes.
November 6th – AccuQuilt GO! CUTTER CLUB – 5:30 p.m. We will begin our Black and White Quilt using the AccuQuilt GO! Cutter Qube. If you have not paid your class fee of $25.00, please come in or mail a check to hold your spot. You will receive your kit of fabrics at class time. All that is required at class is your cutter, dies and mat. You will sew your block at home.
UP-COMING EVENTS:
Wednesday, October 30, 2019 – Sit 'n' Sew…..1 pm to 4 pm…come in and sew with us! It's free and we love to see what you are working on!
November 2nd – UFO CLUB – 10-2. Bring in those UFOs and let's get them done!
We have received lots of new fabrics and have tried to post all the pictures on Facebook. So check that out and be sure to come in and see them. They are so pretty.