Newsletter - October 30, 2019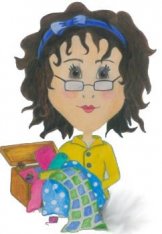 SHARYNN'S QUILT BOX
890 S. STATE STREET
P.O. BOX 1041
NORTH VERNON, IN 47265
812-346-4731
October 30, 2019
October is coming to an end…hard to believe that by the end of the week we'll be into November. But the days are getting shorter and colder and grayer (is that a word?!). I know that it's time to get ready for the Holidays. We can help. We have lots of things that the sewist would love to receive. Beginning with a new sewing machine! How about an AccuQuilt GO! Cutter? This machine cuts 6 layers of cotton fabric thus making cutting time faster than you thought possible. We have dies that any quilter would love to receive.
We carry Janome sewing machines. These machines are so user friendly! Come in and see what we can do to help make the Holidays a bit easier for you.
Now, do you need a long-arm to quilt those quilts?? Darrell still has 2 demos for sale. He will teach you to use it and set it up in your house. Can't beat that!!
Our Christmas Open House will begin on November 8th. We will have specials both weeks. We will be giving away a new Janome Sewing Machine! This machine is a Janome 3160 QOV computerized machine. It is a special edition Quilts of Valor machine.
Here's how to win….come in and for every $25.00 (before tax) that you spend you will be given an entry form. So if you spend $100.00 (before tax) you will get 4 entries. Fill them out, drop in the box and on November 22nd we'll draw a name for the new machine! This would make a great gift for someone on your list or for yourself. The machine will be on display beginning November 8th. We will reveal other prizes and specials as we get closer to November 8th.
After all of that, we will have our 4th Annual 5 County Holiday Shop Hop – Santa Claus Trail! Dates are December 5, 6, & 7, 2019. The hours are 9-5 each day. The passports are on sale now and are $5.00 until the day of the Hop then they are $6.00. When you buy a passport you will receive a free, exclusive Santa Class pattern. We are in love with this "little fella"! He is so cute! So many possibilities…so little time!! Get yours early!
Shops participating are:
Decatur County – Tree City Stitches
Jennings County – Sharynn's Quilt Box
Ripley County – Quilter's Nook
Rush County – In Stitches
Bartholomew County – Sew Crazy
There are lots of prizes and it's just plain fun! So make a day of it with your girlfriends!
Check out our Facebook page. We are posting pictures of Christmas fabrics and other new fabrics. Be sure to like and share!
We are so thankful for all our customers. We know that it is very easy to sit at home and shop on the internet. We are grateful that you support our small business.