Newsletter - November 6, 2019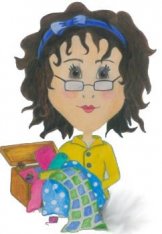 SHARYNN'S QUILT BOX
890 S. STATE STREET
P.O. BOX 1041
NORTH VERNON, IN 47265
812-346-4731
November 6, 2019
We do apologize for the mix-up on our Christmas Open House. The new date will be Wednesday, November 13th. We will be giving away a Janome 3160 QOV computerized sewing machine! You don't want to miss out on this! This is a Quilts of Valor special edition machine. The MSRP on this machine is $1199.00!
Here's how to win this great machine…for every $50.00 you spend (before tax) you will receive an entry ticket. So if you spend $100.00, you will get 2 entries. Fill them out, drop in the box and we will draw a name on November 27th.
We will have 25% off all fabric, notions, books and patterns in the store—(excludes SALE FABRICS, ACCUQUILT GO! CUTTERS & DIES, ALL SEWING MACHINES, HANDI-QUILTER MACHINES AND HANDI-QUILTER NOTIONS). This will NOT apply to special orders. The 25% off SALE runs from November 13th to November 27th. We will draw for the Janome Quilts of Valor sewing machine on the 27th.
We will close for Thanksgiving on November 28th and reopen on December 3rd.
Do you have your passport for the 4th Annual 5 County Holiday Shop Hop – Santa Claus Trail? The dates are December 5, 6, & 7. The hours are 9-5 each day. Passports are on sale now and are $5.00. The price will increase to $6.00 beginning the 5th of December. When you buy a passport, you will receive a free, exclusive Santa Claus pattern. We are in love with this "little fella"! He's so cute! And there are so many uses for this little guy! We are working on our samples using our Santa patterns and they will be in the shop soon. Be sure to come in to see them!
Shops participating are:
Decatur County – Tree City Stitches
Jennings County – Sharynn's Quilt Box
Ripley County – Quilter's Nook
Rush County – In Stitches
Bartholomew County – Sew Crazy
There are lots of prizes to win so don't miss out! Each shop will give away a basket valued at $100.00 along with other prizes.
We have Janome sewing machines on special pricing. Come in and check out these deals! Remember that we service what we sell and we will teach you how to use your machine. We do our class one on one so that you get the best possible result in learning how to use your machine. We also service what we sell on site. Our turnaround is usually 2 days. Our knowledgeable, friendly staff is here to help you get the machine that best suits your needs.
We have deals on our Handi-Quilter demo models. Talk to Darrell! He wants to move them out!
UPCOMING EVENTS:
November 9th – Sharynn's Stitching Friends – 9 a.m. here at the shop.
November 13th – November 27th – Open House (Open regular hours)
Sit 'n' Sew has been cancelled for November and December. We will resume in January.