Newsletter -November 26, 2019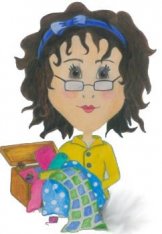 SHARYNN'S QUILT BOX
890 S. STATE STREET
P.O. BOX 1041
NORTH VERNON, IN 47265
812-346-4731
November 26, 2019
We are in our final days of our 25% off sale. We will be drawing for the Janome 3160 QOV Limited Edition sewing machine tomorrow at 5p.m.! For every $50.00 you spend you will receive an entry. This sale is on everything in the store (excludes Sale fabrics, Janome sewing machines, AccuQuilt GO! cutters & dies, & Handi-Quilter machines. These items are on sale also!)
All Janome sewing machines in stock are on sale. Come in and see what we have. We have small machines for the beginner up to the Memory Craft 15000 for the person who wants a machine that does it all! We also have sergers. Come in early for the best selection. We are here for you long after the sale and we service (in house) what we sell. You will have a class one on one about how to use your machine.
Darrell has Handi-Quilter long-arms on sale also. We have a Sweet Sixteen sit down model (used and serviced) for $2800.00 (table included).
AccuQuilt GO! Cutters and Dies are also on sale. BIG Electric GO! Cutter is on sale with $150.00 off! This is an awesome deal but only valid until December 6th. The GO! Fabric Cutter Starter Set and the Ready. Set. GO! Ultimate Fabric Cutting System are also on sale until 12/6/19. You don't want to miss these deals. These machines "cut time so you can quilt more!"
GO! QUBES are on 30% off and all dies are 20% off. Hurry in as these deals won't last long.
Tomorrow will be our last Sit 'n' Sew for the year. Come in and sew with us from 1-4 p.m. We will resume in January.
Next week our 5 County Holiday Shop Hop-Santa Claus Trail begins on Thursday, December 5th and continues thru Friday and Saturday. Get your passport and join in the fun! The hours are 9-5 each day. There are 5 shops. There are lots of prizes and specials at each shop. You don't want to miss this one. Turn in your completed passport to be eligible for the Grand Prize of 5-$50.00 Gift Certificates. Each shop will have 20% off one cut of fabric or a book, pattern, or notion. Each shop will also give away a basket valued at $100.00. So grab your girlfriends and load up your car and make a day of it! Hope to see you here!
UPCOMING EVENTS:
November 28th – Thanksgiving Day. We will be closed and will reopen December 3rd.
December 5, 6, 7 – 5 County Shop Hop – Santa Claus Trail 9-5 each day.
December 14th – Sharynn's Stitching Friends Annual Christmas Breakfast 9 a.m.