Newsletter - December 3, 2019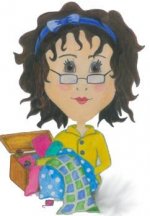 SHARYNN'S QUILT BOX
890 S. STATE STREET
P.O. BOX 1041
NORTH VERNON, IN 47265
812-346-4731
December 3, 2019
It's Shop Hop Week!! Well, not a whole week…but coming up pretty quickly! Have you got your passport? Passports are still available. All the fun begins on Thursday, December 5th at 9 a.m. when we open the doors! Lots of prizes to win and 5 shops decorated and stocked for Christmas. You don't want to miss out on the fun, prizes and specials in each shop.
Each shop will have a basket valued at $100.00 to give away. Every "hopper" can choose one book, pattern, notion, kit, ruler, or cut of fabric to receive 20% off. And for every $20.00 spent you will receive an extra ticket for a chance to win the store gift basket.
The participating shops are:
Decatur County – Tree City Stitches
Jennings County – Sharynn's Quilt Box
Ripley County – Quilter's Nook
Rush County – In Stitches
Bartholomew County – Sew Crazy
Passports will be available for $5.00 up to Wednesday, December 4th. Passports will be $6.00 after that.
From now until Christmas, we are running a special on the Janome M7200 sewing machine. This is a small machine with lots of features and special stitches. The MSRP on this machine is $1199.00. It is on sale for $699.00 until Christmas. So if you know of someone wanting a hard working machine come in and take a look.
AccuQuilt GO! Cutters and Dies are on sale until the 6th of December. These are wonderful Christmas gifts. The BIG Electric GO! Cutter is on sale with $150.00 off! The GO! Fabric Cutter Starter Set and the Ready. Set. GO! Ultimate Fabric Cutting System is also on sale until 12/6/19. These machines "cut time so that you can quilt more!" Be sure to tell Santa what you want.
All members of the AccuQuilt Club, please mark your calendar for class next Wednesday, December 11th at 5:30 p.m. We will be working on the 2nd block. Please bring your first block (made of course) to class.
December 14th at 9 a.m. Sharynn's Stitching Friends will meet for our annual Christmas breakfast and gathering. Also, share with us your projects. We love seeing them.