Newsletter - December 17, 2019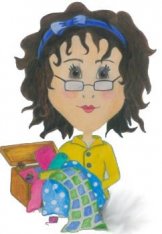 SHARYNN'S QUILT BOX
890 S. STATE STREET
P.O. BOX 1041
NORTH VERNON, IN 47265
812-346-4731
December 17, 2019
This is our last newsletter for 2019! Our Christmas hours are 10-2 on Christmas Eve and closed Christmas Day to January 2nd. We will re-open at 10 a.m. We want to wish you all a very Merry Christmas and Happy New Year! We look forward to serving you in 2020!
We have those last minute gifts for the sewist in your family. Need a new machine? We have the Janome M7200 on special until Christmas. This is a great "starter" machine or to take to class or retreats. This machine has lots of features.
We have AccuQuilt GO! Cutters and Dies that will help you "cut time and quilt more"!
And Gift Certificates are always appreciated!
And Darrell still has specials on Handi-Quilter Demos. We have a Sweet Sixteen (sit-down model) slightly used for $2700.00. Come see what would suit you best. We have a model just for you!
Some reminders for January…..
We will have UFO on Saturday January 4th from 10-2. Let's get those projects done!
AccuQuilt GO! Cutter Club will meet on January 8th at 5:30p.m.
Sharynn's Stitching Friends will meet on Saturday, January 11th at 9 a.m. There is still time to join in the fun. We have a meeting the 2nd Saturday of each month (unless noted in the newsletter). The cost is $15.00 for the year. Come for some fun and fellowship!
Again, we want to wish you a Merry Christmas and Happy New Year! We look forward to serving you in 2020.

Sharynn, Darrell, Cathy, Gail, & Pat