Newsletter - January 15, 2020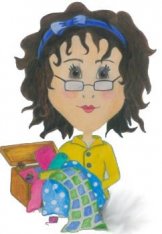 SHARYNN'S QUILT BOX
890 S. STATE STREET
P.O. BOX 1041
NORTH VERNON, IN 47265
812-346-4731
January 14, 2020
What are you sewing on? New project? Old project? Whatever it is if you need help we are here for you! Come in and see all the new fabrics that have just come in. We are up to our ears in fabric!! We are trying to post pictures on FaceBook as fast as we can! Check it out.
Mark your calendar for April 1-4 for the 15th Annual Spring Charming Shop Hop. Hours are Wednesday, Thursday, & Saturday 9-5 and Friday 9-6.
Pin Peddler has gone out of business so this year we have mini charm packs from Moda! You will receive a mini-charm pack when you purchase a passport. And when you have your passport stamped at each shop, you will receive another mini-charm package.
Participating shops are:
1) L&L Yard Good – Madison, IN
2) Margie's Country Store – Madison, IN
3) Sharynn's Quilt Box – North Vernon, IN
4) Tree City Stitches – Greensburg, IN
5) Quilter's Nook – Versailles, IN
6) Quilter's Garden – Lawrenceburg, IN
7) Small Town Stitches – Seymour, IN
Lots of prizes, fun and so get your passport and join in the fun!
SALE! SALE!! SALE!!
Accuquilt – Select dies are on 40% off! (In stock dies only). From now until the 31st of January.
GO! Fabric Cutter Starter Sets and Ready. Set. GO! Cutter systems are on sale for $50.00 off. And the GO! Big is $75.00. These cutters are on sale until 1/25/20.
These cutters are 90% faster and 99% accurate! You can cut time and quilt more! Come in for a demonstration!
Be sure to like us on FaceBook, share our posts and watch for updates!