Newsletter - January 23, 2020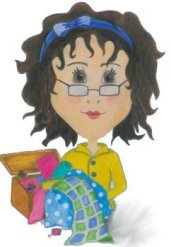 SHARYNN'S QUILT BOX
890 S. STATE STREET
P.O. BOX 1041
NORTH VERNON, IN 47265
812-346-4731
January 22, 2020
We are getting close to February! We have a beautiful selection of Red/White fabrics for Valentine's Day décor. Table runners, wall hangings, throws, pillows etc., it's not too late to start! Come in and see for yourself.
Lots of new fabrics are now on the shelves. Moda's Painted Meadow is a mixture of flowers, solids, & coordinating fabrics.
Henry Glass' Sew Let's Stitch panel and coordinating fabrics will make a wonderful panel quilt for your "she-shed"! Come in and see this beautiful fabric. We posted it on Facebook last week.
New from Northcott..Stonehenge Haiku. This is beautiful blue and white fabric in the tradition of Stonehenge. We have patterns for this fabric too.
Moda's Explore is for that person in your life that loves the outdoors! We have kits and fabric. We will be posting pictures on Facebook soon. The pattern for this fabric is "The Mountains are calling".
AccuQuilt Sale is still on until the end of January. Selected dies are 40% off (In Stock Only!) GO! Fabric Cutter Starter Sets and Ready. Set. GO! Cutter systems are on sale for $50.00 off. And the GO! Big is $75.00 off. These cutters are on sale until 1/25/2020.
These cutters are 99% accurate and 90% faster than cutting with a rotary cutter. Come in for a demonstration.
Reminders for 2020:
When you bring in your sewing machine for cleaning/servicing, bring all cords and if it is an embroidery machine, please bring the arm and one hoop. It usually takes Darrell 1-2 days to clean and service a machine. Pricing for Regular Sewing Machines is $84.95 and Embroidery Machines is $99.95.
Before your schedule a class to learn your new machine, watch the CD if one is provided, read the instruction book and "play" with your machine. Then schedule your class and bring the machine, instruction book and any fabric that you sew with that isn't cotton such as corduroy, denim, etc. We are very happy to schedule your class as we want to make sure that you are comfortable with the machine.
If you were hoping for a new sewing machine for Christmas and Santa forgot it, we still have the Janome M7200 on Special Sale. But it won't last much longer so come in a grab one before they are gone.
Be sure to check us out on Facebook….like and share!!