Newsletter - February 4, 2020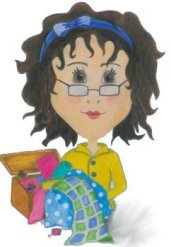 SHARYNN'S QUILT BOX
890 S. STATE STREET
P.O. BOX 1041
NORTH VERNON, IN 47265
February 4, 2020
Here we are in February already and it's Leap Year!! You get an extra 24 hours to sew! Or buy fabrics! We are going to have a Leap Year Sale so be watching the newsletter for what we have planned!
Hurry in to get some great deals on AccuQuilt Dies and Qubes…..from now until February 11th Qubes are $20.00 off and from now until the 12th of February, you will get 10% off 1 die and 20% off 2+ dies. Don't miss it!!
Accuquilt Club members: our meeting is tomorrow night at 5:30 p.m. and you are welcome to bring your sewing machine if you want too. We know that some of you have had trouble getting the pieces together. We are here to help you get the most out of your cutter.
All of our fabrics for the Southern Indiana Shop Hop have arrived. Oh, these are so beautiful. The theme is "Chasing Rainbows"! And it is very appropriate for these colors/fabrics! Follow Southern Indiana Shop Hop on Facebook and you will see them. We posted a picture on our Facebook page.
We have a few upcoming events:
February 8th at 9 a.m. – Sharynn's Stitching Friends. Bring show and tell. We'll have the coffee, tea, and snacks!
February 26th – Sit 'n' Sew here in our classroom from 1-4.
Coming up in March:
29th Annual Indiana Heritage Quilt Show in Bloomington, In on March 5th thru the 7th. Lots of classes, dealers and of course, quilts! For more information go to www.ihqs.org. You can enter a quilt or register for a workshop at that address also.
Also beginning on March 11th, the 4-H kids will again be meeting here in our classroom to work on their sewing projects for the Jennings County 4-H Fair.
The 15th Annual Charming Shop Hop will be April 1-4, 2020. Seven great shops will participate. There are a few things different this year….no charms from Pin Peddler but we will have mini-charms from Moda. You will receive a mini-charm package at each shop with varying prints. Each shop will have ideas for using these mini-charms. So plan to get your passport soon!