Skip Navigation
Website Accessibility
Newsletter - February 18, 2020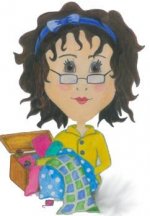 SHARYNN'S QUILT BOX
890 S. STATE STREET
P.O. BOX 1041
NORTH VERNON, IN 47265
812-346-4731
February 18, 2020
Thank you to everyone who commented on our post about winning the awards from Handi-Quilter. Our customers are just THE best and we appreciate every one of you!! Just remember….we are here for you!
CHARMING SPRING SHOP HOP – 2020
This is the 15th Annual Charming Spring Shop Hop! Dates are April 1-4, 2020 and times are Wednesday, Thursday and Saturday 9-5 and Friday 9-6. So lots of dates and plenty of time to get to all the shops!
Participating Shops are:
L & L Yard Goods – Madison, IN
Margie's Country Store – Madison, IN
Sharynn's Quilt Box – North Vernon, IN
Tree City Stitches – Greensburg, IN'
Quilter's Nook – Versailles, IN
Quilter's Garden – Lawrenceburg, IN
Small Town Stitches – Seymour, IN (New this year!)
When you purchase your passport you will receive a Moda Mini Charm pack (as long as supplies last). The Pin Peddler went out of business so we no longer have quilt charms. Each shop will have Moda Mini Charm packs and you will receive one when your passport is stamped. Each shop will also have ideas for using these 2 ½" squares!
All completed passports will be placed in a drawing for prizes!! The Grand Prize is a Janome 3160QDC Sewing Machine. There will be 7 - $25.00 Gift Certificates, 7 - $50.00 Gift Certificates, a Gift Basket with 70 fat quarters, and 7 in-store Gift Baskets up for grabs!!
Each shop will have a quilt made using all the charms from each shop and you will be able to purchase packages of 20 5" charm squares for $5.00 each with a free pattern.
ACCUQUILT SALE!! Tomorrow, February 19th thru February 25th you can get $50.00 off the GO! BIG! This is the electric cutter! The GO! BIG Electric Fabric Cutter is the fastest and largest cutter. You can use 2 of the smaller dies at a time and up to 6 layers of cotton fabric. Plus, it's fully automatic design means it's perfect for everyone, especially arthritis sufferers. Come in and we'll demo the machine for you. You can CUT TIME, QUILT MORE! And isn't that what we all want…more time to sew!
UPCOMING EVENTS:
February 26th: Sit 'n' Sew 1-4 here in our classroom. Bring in those projects and let's get to work on them!
February 29th: Our Leap Year Sale!! One day only….
March 4th: AccuQuilt Club at 5:30 p.m. We will be working on Block #5.
March 7th: UFO Club here in our classroom 10 a.m. to 2 p.m. Come in and finish up those "loose ends"!!
March 11th: We welcome back our 4-H kids who will be sewing in our classroom preparing for the Jennings County Fair.
We have lots of panels that make it faster and easier for you to complete a quilt for that special baby or just a wall hanging for your sewing room. Come in and check them out!
Check out our Facebook page and like and share!