Newsletter - March 3, 2020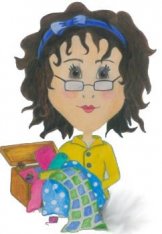 SHARYNN'S QUILT BOX
890 S. STATE STREET
P.O. BOX 1041
NORTH VERNON, IN 47265
812-346-4731
March 3, 2020
We are into March already and we have a very busy month ahead of us! Lots going on here at the shop.
Sharynn and Darrell will be at the 29th Annual Indiana Heritage Quilt Show beginning Thursday, March 5th thru the 7th. This show is at the Monroe Convention Center in Bloomington, Indiana. Be sure to stop in and see them.
AccuQuilt Club is today (March 4th) at 5:30 p.m. We are working on Block #5. In April, we will be meeting on April 8th due to The Charming Shop Hop. Sorry for this inconvenience.
UFO Club is Saturday, March 7th from 10 a.m. to 2 p.m. There will be no UFO Club in April again due to the Shop Hop.
Sharynn's Stitching Friends will meet on March 14th at 9 a.m. here at the shop. Bring those Show 'n' Tell items. We love to see them.
AccuQuilt SALE!! From March 1st thru March 31st the GO! BIG Cutter is on sale for $449.99! This is a savings of $150.00. You discount will be deducted at the register.
We have received some very beautiful and luscious fabrics from Moda. Check out our Facebook page for pictures.
Don't forget to get your passport for the 15th Annual Charming Spring Hop to be held April 1st thru the 4th. Passports are available at participating shops:
L&L Yard Goods – Madison, IN
Margie's Country Store – Madison, IN
Sharynn's Quilt Box – North Vernon, IN
Tree City Stitches – Greensburg, IN
Quilter's Nook – Versailles, IN
Quilter's Garden – Lawrenceburg, IN
Small Town Stitches – Seymour, IN
Passports are $5.00 until day of the Shop Hop and then $6.00. Something new this year is the fact that Pen Peddler went out of business so we now have Moda Mini Charm packs (2 ½" squares) to be given away with each passport sold and when you get your passport stamped at each shop you will receive a Mini Charm pack.
There are lots of prizes including a Janome 3160QDC Sewing Machine, 7 -$25.00 gift certificates, 7 $50.00 gift certificates, a gift basket with 70 fat quarters and 7 in store gift baskets. So come on and join in the fun!