Skip Navigation
Website Accessibility
Newsletter - March 17, 2020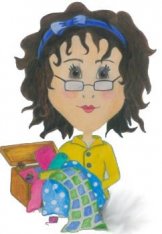 SHARYNN'S QUILT BOX
890 S. STATE STREET
P.O. BOX 1041
NORTH VERNON, IN 47265
March 17, 2020
Here at Sharynn's we are committed to keeping our staff and customers healthy. So with that in mind, we will be open but we are cleaning all surfaces and our staff is wearing gloves! If you need something but don't want to come in, please call and let us know what you need and we will get it together. It will be ready when you get here.
We are cancelling Sit 'n' Sew until at least the end of May. 4-H sewing is cancelled until at least April 8th.
AccuQuilt Club – you can come by the shop and get the April kit and pay for the May kit. We will decide about the May class closer to that time. If you have any problems, I can help you over the phone.
Please stay healthy!