Newsletter - March 31, 2020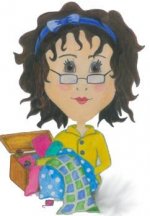 SHARYNN'S QUILT BOX
890 S. STATE STREET
P.O. BOX 1041
NORTH VERNON, IN 47265
812-346-4731
March 31, 2020
Hello!! It's been a long 2 weeks and we want to get back to business but as you know it will be May 1st before we can open to the public again. So with that in mind, we are going to go on line!
Now that said it could still be a week before it is up and running. So be patient with us. If you need anything right now, call 812-346-4731 or 812-592-1236 and leave a message. Messages will be checked and we will mail merchandise as fast as we can.
We do know that our system was down over the weekend (power outage). So if you didn't hear from us, please call again. Our business and all other small businesses depend on YOU! We love our customers and want to do all we can to be able to re-open the doors in May.
You can also send an email to sharynnsquiltbox@gmail.com. Emails will be checked daily. Please remember to give us your name and phone number in case we need to return your call.
We want to stay connected as much as we can so we are going to take pictures of what we've been working on during our Covid-19 "down time" and we will post them on Sharynn's FaceBook page. Please post yours and let us know what you are working on. We love seeing all your beautiful work and we miss seeing every one of you.
There has been no word on when the Charming Shop Hop will take place. We will keep you in the loop when we know something.
Things to remember for April---All events are cancelled until we get the all clear.
AccuQuilt Club members….if you want your blocks for April, May and June please call and we can mail (for a small fee).
We all want to get thru this so let's all try to observe the "social distancing". Don't go out unless necessary. We love our customers and want to see you all soon!