Skip Navigation
Website Accessibility
Newsletter - April 15, 2020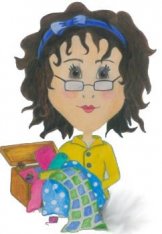 SHARYNN'S QUILT BOX
890 S. STATE STREET
P.O. BOX 1041
NORTH VERNON, IN 47265
812-346-4731
April 15, 2020
We want to thank everyone for your support during this difficult time in our lives. We here at Sharynn's Quilt Box want you to know how much we appreciate your business. We realize that YOU are our business. We want to help you out as much as we can.
If you know of a fabric, notion or something else that you need, you can call 812-592-1236 (Sharynn's cell phone) and we will make arrangements for you to pick it up "curbside"!!
ATTENTION….ACCUQUILT CLUB MEMBERS….we have cut your kits up to and including June. If you want to pick up the kits or have them mailed, please call and let us know. There is a shipping fee of $6.00. You can also pick up "curbside".
We are trying to post new fabrics, kits, etc. on facebook so be sure to check it out.
When we get ready to "flip the switch" to go on line, we will let you know. At this point many items must still be added.
Remember you can call or put a note on Facebook. Sharynn's Quilt Box is NOT on Messenger so please call or email us at sharynnsquiltbox@gmail.com.
And again thank you to all of you for your support. We can't do it without you.