Newsletter -May 19, 2020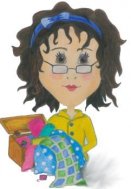 SHARYNN'S QUILT BOX
890 S. STATE STREET
P.O. BOX 1041
NORTH VERNON, IN 47265
812-346-4731
May 19, 2020
We are just "busting our buttons" to let you know that our big announcement this week is that you can now view and order fabrics from our website!! We are so excited to get this up and running! Please go to www.sharynns.com to view all our fabrics. We don't have sale fabrics, notions, or patterns on line yet. If there is something you need and don't see, call and we'll try to help. We also try to ship same day of order unless the order is placed over the weekend. Then it will be shipped on Tuesday.
We are going to follow our state guidelines and will continue to be open on Tuesday, Wednesday, Thursday & Friday 10 a.m. to 4 p.m. Closed on Saturday, Sunday and Monday. Thank you for your patience. If you are unable to get here those hours, please call for an appointment. We will be happy to help you.
We are still asking that you wear a mask and if you have a machine that needs repair, to please call ahead. We know that the "girls" have been very busy during this COVID-19 shutdown and need some down time. But we want to be able to get them in and out in a timely manner.
Our machine special is the Janome 3160QDC. This "little" machine features 59 stitches, scissors, needle threader, needle up/down button and many features of a more expensive machine. It weighs in at 11 lbs. so very easy to carry where ever you go! And we have priced it to sell! Come in and see what we mean.
BLOW OUT DEMO SALE on Handi-Quilter machines!! Now's your opportunity to get that longarm you've been dreaming of at a price that you can't resist! We have a Forte, Amara, Capri and Avante here on the floor. Darrell has priced these to sell so now is the time! Come in and see what you can do with one of these machines!
Several notes:
Sadly, we have made the decision to postpone our In-Shop Quilt Retreat scheduled for September. Since we aren't sure where we will be in this pandemic, we want to keep our staff and customers safe. Again, we are so sorry to have to postpone this event.
All events for June are cancelled. We hope to be back up and running at full speed in July.
Monday is Memorial Day honoring all men and women who died in the service of our great country. Please have a safe holiday!