Newsletter - May 26, 2020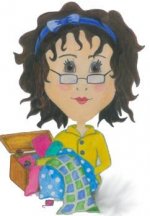 SHARYNN'S QUILT BOX
890 S. STATE STREET
P.O. BOX 1041
NORTH VERNON, IN 47265
812-346-4731
May 26, 2020
We hope everyone had a safe and relaxing holiday weekend! We all did!
June is almost here and that means that half of the year is gone. It's hard to believe as March and April seemed to be 100 days long each!! There is still no word about the Shop Hops so we are waiting. Our hours will continue to be 10-4 Tuesday thru Friday and closed on Saturday, Sunday and Monday until after July 4th. We are still asking that you wear a mask, please!
Please note….Sharynn's Quilt Box will no longer be able to clean, service, and repair Husqvarna-Viking machines due to our inability to obtain parts. Sorry for the inconvenience. And we are still asking that you call ahead to get a date to bring in your machine for cleaning and service. Due to reduced hours, we are overwhelmed!
We want to let you know that you can now order fabric from our website www.sharynns.com! We are so excited and proud of how it has turned out. Check it out. We usually ship same day or next day unless it is ordered over the weekend.
Our Janome 3160QDC is still on special pricing. Sharynn has rolled the price back to our Christmas Special!! We have several of these great "little" machines. They feature 59 stitches, scissors, needle threader, needle up/down button and many features found on more expensive machines. It weighs in at 11 lbs so it is easy to take along where ever you go.
ATTENTION ACCUQUILT CLUB MEMBERS:
We have blocks 7, 8 & 9 now available. Kit #9 is for July. At this time, we are not planning to resume this class until August. You can pick up in store, curbside or we can mail these kits. Please call to make arrangements.
Some notes…..
UFO Club and Sharynn's Stitching Friends will not meet in the month of June. We will NOT have Sit 'n' Sew the last Wednesday of the month either.
We are looking at resuming these events in August along with our Accuquilt Club.
Also, we are waiting to hear when the Charming Shop Hop and the Southern Indiana Shop Hop will be rescheduled. As soon as we know, we will let you know.