Newsletter - July 1, 2020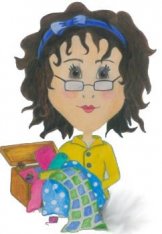 SHARYNN'S QUILT BOX
890 S. STATE STREET
P.O. BOX 1041
NORTH VERNON, IN 47265
812-346-4731
July 1, 2020
This coming weekend is the 4th of July Holiday! We will be open on Friday, July 3rd from 10-2 so that we can have an extended weekend. We hope you will celebrate this wonderful country of ours! With all that is going on, please celebrate safely.
With July here we have made the decision to continue with our abbreviated schedule…10-4 Tuesday, Wednesday, Thursday & Friday and closed on Saturday, Sunday & Monday thru the month of July. Please call if you need to come after 4 p.m. or on a Saturday. You can shop on line as our website is also open 24/7! We ship usually next day unless the order is placed on a Saturday or Sunday. We can also do phone orders with curbside pick- up.
As with most everything since COVID-19, there is merchandise that we have ordered and can't get. Please be patient. We have finally received elastic! And we have reordered this! And please if you find what you ordered from us elsewhere, let us know. We might be able to cancel that part of the order.
To all ACCUQUILT Club members….we will be cutting the final 3 blocks for the quilt sometime this month. We (and we are sure you feel the same way) just don't see how we can finish the classes in a timely manner here in the shop. We want you to be able to finish your top as soon as you can. So, when we have them cut and ready we will be calling you. Thank you to each and every one of you. If you have questions, please call Pat at the shop.
We have received Halloween fabric from Moda---Midnight Magic! We also have Kitty-Kitty pattern using this line of fabric and Magic Hour also using this fabric. Check out Facebook for pictures.
We have also received a line of Henry Glass fabrics for Christmas! It is so special and we can't wait for you to see it. We will be posting pictures soon. It's time to get busy with Christmas projects, gifts, & decorations that are made with your hands and your love!
Have a safe and happy 4th of July weekend!