Newsletter - July 21, 2020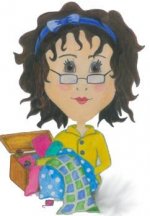 SHARYNN'S QUILT BOX
890 S. STATE STREET
P.O. BOX 1041
NORTH VERNON, IN 47265
812-346-4731
www.sharynns.com
July 21, 2020
Our hours continue to be 10-4 Tuesday, Wednesday, Thursday and Friday. We are closed on Saturday, Sunday and Monday. We will continue with these hours at least into August. If you need to come in after 4 p.m., please call and we will make an appointment to be here for you. We can also ship or do curbside pickup.
Also, to stay in compliance with the CDC and State guidelines, we are asking that you please wear a mask. This is as much for your protection as our employees. We value every one of you! And we thank you again for getting us thru this and being able to keep our business open.
With temps in the 90s, it's hard to think about anything but getting cool! We are receiving Thanksgiving and Christmas fabrics almost daily. We will be posting on Facebook soon. These prints are classics and of course we love them.
The flannels by Henry Glass (and yes, we know it's too hot for flannel!) are in and would make wonderful blankets for kids and adults at Christmas. These are quick and easy to do. You can even get the kids involved. Have the kids help make one for grandma, grandpa and maybe even the great-grandma and grandpa!
Wilmington Prints Evergreen Farm is here and we are in love with this beautiful panel and we have the coordinating prints, pattern, and pre-cuts. We are also cutting kits! Check out our Facebook page and take a look at this panel.
We now have black and white ¼" elastic for masks. The black is pre-cut in 5 yard lengths. The white we'll cut as much as you want.
Are you in the market for a new sewing machine? Janome has a machine for you! We have light weight machines that will do lots of stitches and have features that are usually only found on more expensive machines. These machines are what we call "go anywhere" machines. You can take this 11 pound beauty most anywhere. We have the Janome 3160QDC, Janome 4300QDC, Janome Sewist 780DC and 740DC.
We also have the Janome M7 that is the "workhorse" machine. It features a 13.5" throat for plenty of room to get a quilt quilted. It does free motion and ruler work. Come in and see a demo!
Remember when you buy locally it helps us all. We will teach you how to use your machine and we service what we sell. We want you happy!
We are still getting an abundance of machines in for cleaning and service. So please continue to call to schedule. This makes the process go much faster!
Again, we want to thank you for your continued trust and faith in us during this pandemic. We are looking forward to the day that we can open fully and have our clubs, sit 'n' sew, etc. We miss all of that!