Newsletter - July 28, 2020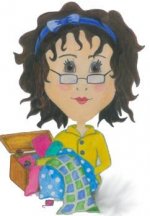 SHAYRNN'S QUILT BOX
890 S. STATE STREET
P.O. BOX 1041
NORTH VERNON, IN 47265
812-346-4731
July 28, 2020
Here we are at the end of July…personally we weren't sure we were going to make it!! We are still observing the COVID directives from the governor. So we will continue our current schedule of 10-4 Tuesday, Wednesday, Thursday, & Friday. We will be closed on Saturday, Sunday, & Monday. If these hours don't work for you, please call and make an appointment. We are happy to accommodate you. We are here for you! You can also shop from our website www.sharynns.com.
Also, to stay in compliance with the CDC and State guidelines, we are asking that you please wear a mask. This is as much for your protection as our employees. We value each and every one of you!
Please remember to call in to schedule your machine for service. This has worked so much better for us and getting them in and out in a timely manner.
With kids going back to school & every one having to wear a mask most everywhere these days, we've put together a "bundle" of fat quarters and elastic to help you get them made quicker. We have a few bundles for kids (puppy fabric, etc.), men and women. Come in and take a look. We will post some pictures on Facebook. Check it out.
We have received the Janome Skyline S9. This is an embroidery/sewing machine. On the embroidery "side" it has 250 built-in designs including 40 exclusive designs by Anna Maria Horner. It has WI-FI technology and 3 exclusive Janome Apps. Design transfer via USB, WI-FI and direct PC connection. Lots of sewing features including scissors, twin needle function, needle threader, auto presser foot lift and many, many more. This one is a must see! It is priced to sell! So come in and give her a chance to show you her "stuff"!!
All of the machines that we sell are backed by our 22 years of selling and servicing Janome machines. Please remember that we will teach you how to use your new machine and we will service it in years to come. Be sure that you consider this when purchasing a machine. When we service a machine, it is done here in our shop and our work is guaranteed.
Darrell still has a couple of Handi-Quilter machines (demos) on sale and ready to go. You won't see prices like these again for a while. So give him a call to schedule a demo. These won't last at these prices.