Newsletter - August 4, 2020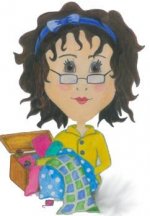 SHARYNN'S QUILT BOX
890 S. STATE STREET
P.O. BOX 1041
NORTH VERNON, IN 47265
812-346-4731
August 4, 2020
We realize that more and more people are sewing and crafting with this COVID-19. We are so thankful that you have chosen us to buy and service your machines. And thank you so much for calling ahead to schedule your machine. This has helped Darrell so much to get them in and out in a very timely manner.
We are going to continue with the schedule as it is now…10-4 Tuesday, Wednesday, Thursday & Friday. We are closed on Saturday, Sunday, & Monday. We are also asking that you wear a mask in the store.
To members of the Accuquilt Club…the last 3 blocks of the quilt are cut and ready for pick-up. They are available now. They are $12.00 each and we can ship. There is a fee for shipping. Please call the shop if you would rather not come in. We can also do curb-side pick-up.
It has been a very busy week and we are happy to say that we love that. So this newsletter is short!