Newsletter - August 11, 2020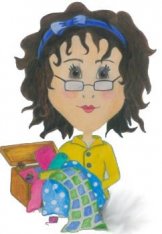 SHARYNN'S QUILT BOX
890 S. STATE STREET
P.O. BOX 1041
NORTH VERNON, IN 47265
812-346-4731
August 11, 2020
Back in January of this year, some of us made some "resolutions". Of course ours have long since been replaced with just trying to stay healthy and safe. But maybe you made a resolution to do more sewing, knitting, crocheting, crafting in general. Have you been able to keep any of the resolutions?? We hope that you have been able to do more sewing…making memories and passing them on to the next generation is what it is all about. So if you haven't been able to do what you set out to do, begin again. Come in and see us. We have lots of fabric, notions, patterns and we can help you get started. Maybe you need to get a few Christmas presents done. We can help with that too. Or maybe you just want to use up your "stash". We have patterns for that!
Check out our Facebook page and be sure to post what you are working on. We love to see the pictures.
We are here Tuesday, Wednesday, Thursday & Friday 10-4. We are closed on Saturday, Sunday and Monday. You can also shop our website – www.sharynns.com for fabrics and longarms. We carry Janome sewing machines and Handi-Quilter Longarms.
We can also ship an order or you can pick it up curbside. We do ask that you wear a mask if you come in the store.
Attention Accuquilt Club members: We have the last 3 quilt blocks fabric cut and ready for you to pick up. We can also ship if you are unable to get here or you don't feel comfortable coming in the shop. We will help you any way we can. And of course we want everyone to bring in their finished quilt and we'll take pictures.
Remember to call to schedule your machine for service. This helps us to get them in and out in a timely manner. Also please be sure that we have your current phone number. We may need to call you.
_______________________________________________________________
We have a Forte 24" and The Amara 20" both with the ProStitcher on 12'frames. The Avante 18 with the 12' frame and two Simple 16s with the 5' frame. The 18" Capri sit down machine also. All of our machines are stitch regulated and all have extra bobbins, needles, thread and a $380.00 bobbin winder. These machines were used only for demo and have very few stitches on them.
You can save lots of money on freight by buying these. You will receive our service, training and expertise and free set-up with full warranty. If you've always wanted one now is the time to get it! _____________________________________________________________________________