Newsletter - August 25, 2020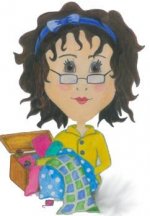 SHARYNN'S QUILT BOX
890 S. STATE STREET
P.O. BOX 1041
NORTH VERNON, IN 47265
812-346-4731
August 25, 2020
Check out our Facebook page for pictures of Sharynn and Darrell with the awards given to them by Handi-Quilter. These awards are presented to dealers who have the highest commitment to customer service and are in the top 25 Dealers in the nation. We are so proud to have received this recognition from Handi-Quilter. But we couldn't have gotten them without you, our loyal customers. So thank you for your continued support and confidence in us.
We are continuing with our 4 day schedule and our shortened hours. If this is inconvenient for you, please call and we will make arrangements to suit your schedule. You can shop our store from home and pick up curb-side or we can ship. If you do choose to come in, please remember to wear your mask. This is for your protection as well as our employees. Thank you.
With the shortened schedule, we are asking that you call to schedule your machine for service. This helps us to "stay ahead" of the game and get them in and out in about 2 days. Thank you for your patience in this area.
Accuquilt Club members we have cut the last three blocks and they are ready for you to pick-up. Don't forget that we can ship or curb-side pick-up.
Are you working on Holiday projects? Post your pictures on our Facebook page or bring them in and we'll take your picture and post it. We love to see what you are working on. Please check out our Facebook page and like and share our posts.
We have lots of Halloween, Thanksgiving, & Christmas pre-cuts, kits, and yardage for those projects.
Janome has notified us that we will be receiving machines within the next week! YEA!! COVID put a damper on us receiving these machines. We will keep you up to date and let you know when they arrive.