Newsletter - September 1, 2020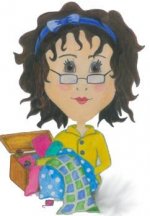 SHARYNN'S QUILT BOX
890 S. STATE STREET
P.O. BOX 1041
NORTH VERNON, IN 47265
812-346-4731
September 1, 2020
September is here. The gardens are waning and the nights are cooler. It's time to dig out the fall and Holiday fabrics and begin thinking about Holiday sewing. Or maybe you need new fall fabrics. Do you know that September is National Sewing Month? It's time to change the décor from spring and summer to fall and holiday! Do you need a new table runner or table topper? We have beautiful Wilmington Fall prints. We have a sample in the store of a table topper made with the Wilmington prints. We posted some pictures to our Facebook page of some of our fall prints. Take a look, like and share!
We would normally be preparing for our In-House Retreat and Jelly Roll Day. But with COVID, we are unable to hold these events. So we want to challenge you to virtually hold these events on your own! And here is an incentive…we will have Jelly Rolls on sale for 15% off until September 18th. Get your Jelly Roll and set a time to hold your own "retreat" and don't let anything get in the way. When it is finished, bring it in so we can get a picture and post to our Facebook page. You will have until October 15th.
It's been a tough year so far and you deserve to get to have several days to enjoy sewing.
We are anxious to get back to our Sit'n'Sew, UFO Saturday and Sharynn's Stitching Friends Club. But we don't have the space to social distance. We are so sorry about this situation. We want everyone to be safe. So please bear with us and we'll all get thru this. Also, please remember that you can shop on line and we will ship.
We realize that not being open on Saturday for some is an inconvenience. So if you can't get here any other time, we will make an appointment for you on a Saturday. We are happy to do that.
Please call to schedule your machine for service. This is working very well for all of us. Thank you for your cooperation.
We have received several sewing machines again from Janome! We have the MC9450 now in stock and the new 4120s have come in also. So if you are in the market for a new machine, come in and see us. We will help you get the machine you want and need. We are still waiting on several others. If you ordered one, we will call when it gets here.
Be sure to check out our Facebook page…like and share our posts!