Newsletter - September 15, 2020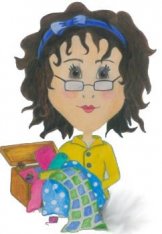 SHARYNN'S QUILT BOX
890 S. STATE STREET
P.O. BOX 1041
NORTH VERNON, IN 47265
812-346-4731
September 15, 2020
September is National Sew Month! Moda's National Sew A Jelly Roll Day is September 19th. Moda is calling it JELLY ROLLAPOLOOZA! We hope that you will take advantage of our 15% off all Jelly Rolls and make a quilt. This sale ends on September 18th. Then we want you to bring it in so that we can take pictures.
ATTENTION:
BEGINNING OCTOBER 3RD WE WILL OPEN ON SATURDAYS FROM 10 A.M. TO 2 P.M. OUR HOURS ON Tuesday, Wednesday, Thursday, & Friday WILL STILL BE 10 A.M. TO 4 P.M. AND WE WILL BE CLOSED ON SUNDAY AND MONDAY.
Please continue to call to schedule your machine for service as this helps us stay ahead of the game! Thank you so much for your cooperation.
Have you checked out our website? You can shop for all our current fabrics, kits, etc. If you don't see it on the website, call and we'll let you know if we have it. We think it is pretty cool! Check it out! We usually ship next day!
We have lots of "things" in the works in the months to come. Beginning in October we will again open on Saturdays (10a.m. to 2 p.m.)!
We are planning a celebration in November for Sharynn's 22nd year in business! We've been "cooped" up for so long and we want to have some fun. Stay tuned for more details!
The 4 County Holiday Shop Hop – Candy Cane Crush – is on!! This will be the first week in December. We are so excited to be able to do a shop hop. More details to come.