Newsletter - October 6, 2020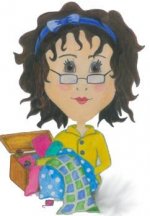 SHARYNN'S QUILT BOX
890 S. STATE STREET
P.O. BOX 1041
NORTH VERNON, IN 47265
812-346-4731
October 6, 2020
Thank you so much to our awesome customers!! Our first Saturday back was outstanding! We are slowly but surely returning to "normal"!
What are you working on? Halloween, Thanksgiving, Christmas or just whatever you find in your sewing "stash"? We have plenty of Halloween-Fall fabrics and new Christmas panels and complimentary fabrics to coordinate.
Thank you for calling ahead to schedule your sewing machine. This system has really helped us to get your machine in and out faster. So we are going to continue doing this for the time being.
Darrell has two Simply Sixteens, a Capri sit down model and a Forte are all DEMOS on drastic mark down. We need to move them in prep for new ones coming in! So if you are ready for a quilt machine, check these out. Call Darrell or come in and see him.
Remember that we love to see what you are working on and want you to bring it in so that we can it and take pictures.
We have passports for the Candy Cane Crunch Shop Hop!! This is our 4 County Holiday Shop Hop and will be held December 3, 4, & 5, 2020. We are so excited and planning already. It will be the 4 original shops….Tree City Stitches, Decatur County; Sharynn's Quilt Box, Jennings County; Quilter's Nook, Ripley County; and In Stitches, Rush County. Passports are on sale now!! Passports are $5.00 until day of and then $6.00. You will receive an applique pattern when you purchase your passport. It will be all things Candy Canes!!
There will be prizes at each shop and the Grand Prize is 4 - $50.00 Gift Certificates…1 from each shop! So come on…let's go hoppin'! Don't miss out on the fun!
Be sure to check out our website www.sharynns.com and like and share our Facebook page!