Newsletter - October 22, 2020 (MOXIE)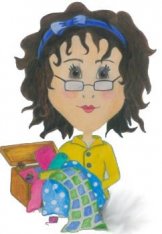 SHARYNN'S QUILT BOX
890 S. STATE STREET
P.O. BOX 1041
NORTH VERNON, IN 47265
812-346-4731
October 22, 2020
We want to introduce you to MOXIE! The newest addition to our line of Handi-Quilters! She is a fifteen inch free-motion stitch regulated machine on a height-adjustable 8 foot HQ Loft Frame that can be expanded to 10 feet.
MOXIE empowers quilters of every experience level to enjoy free-motion quilting at a fraction of the cost. MOXIE enables you to finish any size quilt, even with limited space.
She comes with lots of "goodies" to help you finish your quilts. Get stitching faster with straightforward features and easy-to-use controls. Simple and spectacular!
So if you are looking to start quilting your own quilts, this is the machine you need. Come in and take her for a "test spin". You will fall in love! Check her out at www.handiquilter.com.
We also have the Forte 24", Amara 20", Simply Sixteen, and the MOXIE 15". Be sure to come see all these machines. We know there is one for you!
Call Darrell for an appointment time!