Newsletter - October 27, 2020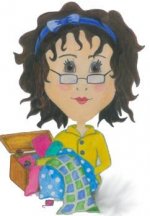 SHARYNN'S QUILT BOX
890 S. STATE STREET
P.O. BOX 1041
NORTH VERNON, IN 47265
812-346-4731
October 27, 2020
Here we are in the last week of October! Cold weather is here along with days that make us just want to go to our sewing room and sew all day! All of us (especially this year!) need days that we can just sew all day! We will be here for all your supplies. And if you don't want to get out, go on our website and order it and we'll ship it to you! Simple and easy!
We want to introduce you to MOXIE!! She is the newest addition to our line of Handi-Quilter machines. She is a 15" free-motion, stitch regulated machine on a height-adjustable 8 foot HQ Loft Frame that can be expanded to 10 feet.
So if you are looking to start quilting your own quilts, this is the machine you need. Come in and take her for a "test spin". We know that you will fall in love!
Call Darrell for an appointment! You won't be disappointed.
We are continuing with our current hours of 10-4 Tuesday, Wednesday, Thursday, & Friday and 10-2 on Saturday. If you can't get in during these hours, please call and we'll make an appointment or make arrangements to stay later. We also ask that you wear a mask.
We are working on getting our samples ready for the 4 County Holiday Shop Hop…The Candy Cane Crunch! We are back to the original 4 shops….Tree City Stitches, Decatur County; Sharynn's Quilt Box, Jennings County; Quilter's Nook, Ripley County; and In Stitches, Rush County. The hours are 9-5 on December 3, 4, & 5. Passports are available now at participating shops and include a coordinating applique pattern. Passports are $5.00 until day of and then $6.00 each. When you turn in your completed passport you will be eligible for the Grand Prize of 4-$50.00 Gift Certificates. Each shop will be giving away individual $100.00 prize basket.
Be sure to get in on the fun and get your passport now!
When you call to schedule your machine for service, we will give you a day to bring it into the shop. This does NOT mean that Darrell can service the machine at this time. We can no longer repair and service while you wait. We are sorry for this inconvenience but we have become too busy for that. And this is a good thing! Also we don't have the storage space for lots of machines and that is why we are asking you to bring them on a specific day. This will get them in and out in a timely manner. Once your machine is serviced/repaired, we will call you to pick up. Thank you for understanding. And please remember that we no longer service or repair Husqvarna-Viking machines due to our inability to obtain parts. Sorry for this inconvenience.
We will be holding a Handi-Quilter Class November 21st. This is a one day only class. Harriett Carpanini will be teaching The New Design Program. Pro-Stitcher Designer gives you the ability to quickly design, edit, customize, export and import any quilting motif you can imagine. It is software for creating paper or digitized quilting motifs. This is a full-featured, vector-based editing and digitizing software to create your own digital quilting files. It is easy to learn user interface and features. Free lifetime program updates! This is compatible with all major longarm quilting file formats. You will learn to customize, edit, and merge existing designs. The time will be 9-3 with a 1 hour lunch break. Due to COVID-19, we will be limited on the number of people we can have in this class. So get your reservation in early. The cost will be $60.00 per person.
If you purchased a Pro-Stitcher in 2020, you will have this program. Even if you don't have this program you can take this class. You can consult with Darrell and he will help you purchase and download it.
If you are interested in taking this class, please call to sign up asap as we feel this class will fill up fast and we are limiting the number of people. And masks are required.