Newsletter - November 3, 2020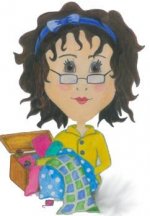 SHARYNN'S QUILT BOX
890 S. STATE STREET
P.O. BOX 1041
NORTH VERNON, IN 47265
812-346-4731
November 3, 2020
This is the month of thankfulness. Shouldn't we be thankful every month? We think so. We are so thankful for our customers who come back all the time. We are thankful for our health and our families. It's been hard this year but we are so appreciative of all of you. Let's be thankful every day for what we have!
Let us introduce you to MOXIE!! Handi-Quilter's newest family member. She is a 15" free-motion, stitch regulated machine on a height-adjustable 8 foot HQ Loft Frame that can be expanded to 10 feet.
This is a good "starter" machine for beginning long-arm quilters. Call Darrell for an appointment to give her a "test spin"!
We will be holding a Handi-Quilter Class November 21st here at the shop. This is a Saturday and it will be from 9-3 with a 1 hour break for lunch. The cost is $60.00 per person. Harriet Carpanini will be teaching The New Designer Program. Pro-Stitcher Designer gives you the ability to quickly design, edit, customize, export and import any quilting motif you can imagine. It is software creating paper or digitized quilting motifs. It is easy to learn user interface and features. And it has FREE lifetime program updates! This is compatible with all major longarm quilting file formats. You will learn to customize, edit and merge existing designs. Due to COVID-19, we are limited on the number of people we can have in this class. So don't miss out and get your reservation in early.
If you purchased a Pro-Stitcher in 2020, you will already have this program. If you don't have it, you can still take this class. If you plan to attend, please bring a laptop with a trial of Pro Stitcher Designer loaded. You will be able to try the software before buying.
If you are interested in taking this class, please call early to sign up as we feel this class will fill up fast and we are limited on seating. And masks are required.
SALE FABRICS WILL BE $7.00 PER YARD with one yard minimum cut from November 10th to the 14th. Come stock up!! We need to clear it out!! This is fabric that normally sells for $11.99 per yard.
A note for your calendar…..we will be closed on Thanksgiving Day, November 26th to celebrate with our families. We will reopen December 1st. (We will remind you again!)
Have you gotten your passport for the 4 County Holiday Shop Hop…The Candy Cane Crunch? If not, gather your group and get those passports so you can join in the fun. It is the 4 original shops…Tree City Stitches, Decatur County; Sharynn's Quilt Box, Jennings County; Quilter's Nook, Ripley County; and In Stitches, Rush County.
Shop Hop hours are 9-5 each day…December 3, 4, & 5. Passports are $5.00 each now and will be $6.00 each when the Shop Hop begins. They are available in each of the participating shops. You will also receive an applique pattern with each passport.
Turn in you completed passport to be eligible for the Grand Prize of 4 - $50.00 gift certificates. Each shop will also give away a basket valued at $100.00. So be sure to get your passport early and plan to join in the fun.
We are still asking that you call to schedule your machine for service. We will give you a day to bring it in but this doesn't mean that Darrell can service the machine at this time. We can no longer repair and service the machine while you wait. We are sorry for the inconvenience but we have become too busy for that. Which is a good thing for us! And we don't have a lot of storage space for machines. Thank you for your understanding.