Newsletter - November 10, 2020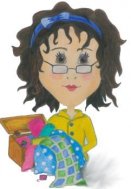 SHARYNN'S QUILT BOX
890 S. STATE STREET
P.O. BOX 1041
NORTH VERNON, IN 47265
812-346-4731
November 10, 2020
What are you thankful for this week? Us…we are thankful for this beautiful weather (which we know won't last) and we are enjoying it! Hope you are!
All our SALE FABRIC IS MARKED DOWN TO $7.00 PER YARD (one yard minimum cut). If you've been using your stash, now is the time to replenish! Most of this fabric was originally $11.99 per yard. This sale is on until closing time on Saturday, November 14th. Don't miss out.
We have the newest Handi-Quilter machine in HQ's line-up of longarm machines. The MOXIE! She is a 15" free-motion, stitch regulated machine on a height-adjustable 8 foot HQ Loft Frame that can be expanded to 10 feet. This machine is a good "starter" machine if you've never owned a longarm before. She is set up and you are welcome to come in a take it for a "spin"!
Harriet Carpanini is a Handi-Quilter National Educator and will be here at Sharynn's Quilt Box to teach The New Designer Program. The class will be held on November 21st from 9-3 with a 1 hour lunch break. The cost is $60.00 per person. The Pro-Stitcher Disigner gives you the ability to quickly design, edit, customize, export and import any quilting motif you can imagine. If you purchased a Pro-Stitcher in 2020, you will have this program. If you don't have it, you can still take the class. Please bring a laptop with a trial of Pro-Stitcher Designer loaded. You will be able to try the software before you buy it.
Due to COVID we are limited on the number of people we can have in this class. Don't miss out. Call and reserve your spot.
Harriet Carpanini
Harriet Carpanini tried her hands at many different crafts while raising her three children as a stay-at-home mom, but quilting is the one she took off and ran with. Wanting to finish her own quilts, she bought her first Handi Quilter machine in 2004, the HQ Sixteen®. She started her home business, "The Last Stitch" a year later.
In 2007 (and many quilts later), when Handi Quilter began its national educator program, Harriet became one of the first educators. She began traveling the country and internationally, teaching her love of longarm quilting. She upgraded her machine to an HQ24 Fusion® and HQ Pro-Stitcher®, continuing her successful business while meeting new students from around the world. Handi Quilter opened doors she never dreamed of.
Harriet's love of clamshell quilting led her to write Inside the Shell, a book featuring creative fills for clamshell quilting. She looks forward to meeting new and seasoned quilters at store events and shows.
Please visit Harriet at www.facebook.com/TheLastStitch.
Have you gotten your passport for the 4 County Holiday Shop Hop…The Candy Cane Crunch??? If not, gather your group and get those passports and join in the fun. It is the original 4 shops….Tree City Stitches, Decatur County; Sharynn's Quilt Box, Jennings County; Quilter's Nook, Ripley County; and In Stitches, Rush County.
Shop Hop hours are 9-5 each day…December 3, 4, & 5. Passports are $5.00 each not and will be $6.00 when the Shop Hop begins. You will receive a free applique pattern when you purchase your passport.