Newsletter - November 17, 2020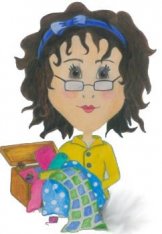 SHARYNN'S QUILT BOX
890 S. STATE STREET
P.O. BOX 1041
NORTH VERNON, IN 47265
812-346-4731
November 17, 2020
Thanksgiving will be different this year at least for some of us. Most of us are "sheltering" to avoid COVID. We are trying to find our "balance" in all of this. It's not easy. Please remember to wear your mask and if you are not comfortable coming in the store, call or order on line and we will ship it to you or you can pick up curbside.
We are sorry but the class scheduled for November 21st with Harriet Carpanini has been canceled due to the up-swing in COVID-19 cases. We will reschedule after the New Year.
The 4 County Holiday Shop Hop…Candy Cane Crunch is just 2 weeks away. Do you have your passport? Every participating shop has them! There are lots of prizes to win, plenty of ideas for Christmas giving and of course, coupons for your return visit. So mark your calendars for December 3, 4, & 5. The Hours are 9-5 each day. Each shop will give away a basket of "goodies" valued at $100.00. Plus if you visit each shop, you will be in the drawing for 4 $50.00 gift certificates.
We know that you are thinking about Christmas shopping so how about shopping locally. If you aren't sure what to get, gift certificates are always the right size and the perfect fit! The Shop Hop is a perfect example of shopping locally and helping keep all our local quilt shops open.
We will be closed from November 26th to December 1st to celebrate Thanksgiving with our families. Take this time to be with the ones you love even if it's on a face-time call or a Zoom "meeting". This isn't easy on any of us but let's put a smile on our face and make the best of it.
If you have a long-arm on your Christmas Wish List this year, come in and take a look at all the ones Darrell has on the floor. He has the Forte, the Amara, Simply Sixteen, the Capri (a sit down model) and MOXIE the newest edition. So there is one to fit you and help you create the quilt of your dreams.