Newsletter - November 24, 2020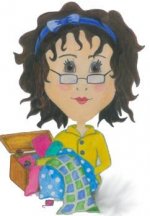 SHARYNN'S QUILT BOX
890 S. STATE STREET
P.O. BOX 1041
NORTH VERNON, IN 47265
812-346-4731
November 24, 2020
We are so looking forward to our 4 County Holiday Shop Hop…Candy Cane Crunch. It begins next week December 3rd, 4th, & 5th. We will be opening our doors at 9 a.m. each day. There are lots of prizes to win, plenty of ideas for Christmas giving and of course, coupons for your return visit. Mark your calendar and join us for some Christmas fun. You can still buy a passport on any day of the shop hop too. Each shop will be giving away a basket of "goodies" valued at $100.00!!
For all members of Sharynn's Stitching Friends…we have missed having our meetings and seeing all of you. If you paid your dues in 2020, you will NOT owe for 2021! And when we can safely meet again, we plan to have a big party to celebrate being able to get back together.
If you were not a member this year but want to join for next year just come in and we'll get you all set up. We aren't sure when we can begin to have our meetings again. But we sure are looking forward to it.
Darrell has several Simply Sixteen Handi-Quilter long-arm machines on a 5 ft frame on DEMO BLOW OUT SALE!! They are priced below MSRP and Show Special Pricing. You can quilt a full size quilt on these machines. If this is on your Christmas List, now is the time to talk to Darrell. These machines are perfect for smaller spaces. Come in and see what we have.
Remember that we will be closed on Thanksgiving Day (November 26th) and we will re-open on December 1st at 10 a.m.
Now to get the shop decorated for Christmas!! Have a very Happy Thanksgiving!