Skip Navigation
Website Accessibility
Newsletter - December 8, 2020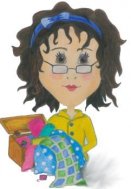 SHARYNN'S QUILT BOX
890 S. STATE STREET
P.O. BOX 1041
NORTH VERNON, IN 47265
812-346-4731
December 8, 2020
We want to take a minute to thank everyone who participated in the 4 County Holiday Shop Hop – the Candy Cane Crunch. It was so much fun! And we know that everyone was happy to get out and go!
Grand Prize winner of 4 $50.00 Gift Certificates is Robin Geyman from Madison! Congratulations, Robin. And Susan Luebbert is the winner of our basket. Congratulations to Susan! We are looking forward to the Charming Shop Hop in the spring of 2021. Hope to see you all then.
Is a longarm on your Christmas list? If it is, call us we have all Handi-Quilter Longarm machines on special until December 23rd. We have a Forte, Simply Sixteen, Capri and Moxie on the floor and ready to go. If you are interested in a longarm come in or call and talk to Darrell.
Not sure what to buy for that special sewer or quilter in your life, we have the best gifts! Why not a Gift Certificate? You can buy any amount and it's always the right size, fit and you know they will be able to use it!!
Please remember that if your machine needs service it must be here before December 18th to have it done before December 23rd. No machines will be taken after the 18th and all machines must be picked up by closing time on December 23rd.
For all members of Sharynn's Stitiching Friends…we have missed having our meetings, seeing all of you and seeing what you have made. We don't feel it is safe to try to have our annual Breakfast so we are postponing that until 2021. Now if you paid dues for 2020, you will be automatically enrolled for 2021. You will not owe for 2021. We are hoping to begin again in February. We are planning a big party to celebrate.
If you were not a member this year but want to join for next year just come in and we'll get you all set up. Dues are $15.00. We meet on the 2nd Saturday of each month here at our shop and we have refreshments and we share all the new "things" in the shop. We have show 'n' tell and there is always a "special". So won't you come and join us. We will let you know when we feel it is safe to meet next year.
Our Holiday Hours will be:
December 22nd and 23rd open 10 a.m. to 4 p.m.
December 24th to January 4th CLOSED
REOPEN January 5th.