Skip Navigation
Website Accessibility
Newletter - Handi-Quilter Class - December 15, 2020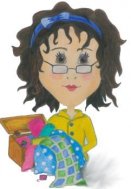 SHARYNN'S QUILT BOX
890 S. STATE STREET
P.O. BOX 1041
NORTH VERNON, IN 47265
812-346-4731
December 15, 2020
VIRTUAL HANDI-QUILTER ONE DAY EVENT
A special one (1) day Handi-Quilter Virtual Event will be December 21st.
HQ Educator Martha Higdon will present Pro-Stitcher Designer.
Part ONE is from 10 a.m. – 12 p.m. Intro to Pro-Stitcher Designer software. Creating and editing designs has never been this much fun!
Part TWO is from 1 p.m. – 3 p.m. Using your Magic Wand to Follow the Path & Write Home About It!!
You must pre-register with an email to receive the Zoom invitation. Please email to dlp3@frontier.com. You can also call 812-345-4731 to sign up. Customers of Sharynn's Quilt Box call for special pricing. The cost is $50.00 for both classes.