Newsletter - January 5, 2021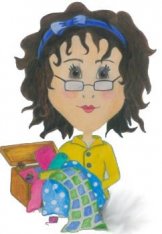 SHARYNN'S QUILT BOX
890 S. STATE STREET
P.O. BOX 1041
NORTH VERNON, IN 47265
812-346-4731
January 5, 2021
Here we are 6 days into January 2021. These are long days and the time of the year that as we put away the Christmas decorations, we clean out. We all want to "start fresh". Are you beginning a new project or finishing an "old" one? If you need help, we are here. We miss seeing all of the great things that you have made so bring them in to show us. We will take a picture and post it on our Facebook page so that others can see what wonderful things you've made.
Our hours will remain 10-4 Tuesday, Wednesday, Thursday, Friday and 10-2 on Saturday. We will not be having UFO Saturdays or Sharynn's Stitching Friends until further notice.
At this time, there is no need to make an appointment for your sewing machine to be serviced.
We have pre-cuts, layer cakes, jelly rolls, & charm squares of lots of different fabrics. These pre-cuts make it so easy to put together a quilt, a throw, a baby quilt, etc. Come in and get inspired!
Did you attend the 4 County Holiday Shop Hop? Don't forget to use your 20% off coupon! It is good on one item and expires at the end of January.
We still have some Christmas kits available that would be great to get a jump on Christmas 2021! And you can use your coupon on this item.
We also have Henry Glass flannel (Christmas & winter theme). These make wonderful throws. No sewing is necessary! Just tie it up! Fast and easy! Flannels make great rag quilts too!