Newsletter - January 7, 2021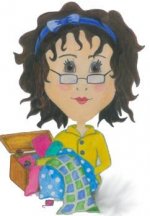 SHARYNN'S QUILT BOX
890 S. STATE STREET
P. O. BOX 1041
NORTH VERNON, IN 47265
812-346-4731
January 7, 2021
We failed to mention in our weekly newsletter that we have Handi-Quilter machines on DEMO SALE!
We have the newest Handi-Quilter machine which is the MOXIE. It is a 15" on an 8' Loft frame with optional 2' extension kit. It is stitch regulated and has many features of more expensive machines. Great beginner machine!
The Simply 16" is on a "Little Foot" frame 5'. This machine has LED lighting, consistent stitch quality & is stitch regulated. There are many more features with this machine.
Amara is a 20" machine with lots of creativity on a 10' – 12' frame with many features of a much more expensive machine. You can add Pro-Stitcher with this machine and create many more quilting designs!
Forte is a 24" machine on a 12' frame. Add a Pro-Stitcher for lots more possibilities!
All of these machines are on DEMO SALE and ready to be set up in your sewing room! Come in and see Darrell for pricing and demonstrations.