Newsletter - January 13, 2021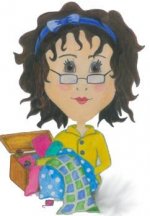 SHARYNN'S QUILT BOX
890 S. STATE STREET
P.O. BOX 1041
NORTH VERNON, IN 47265
812-346-4731
January 13, 2021
We have a beautiful day here in Southern Indiana. A bit chilly but the sun is shining and that lifts our spirits and sets our minds to thinking about beautiful spring fabrics in soft pastels. We have some beautiful Hoffman Batiks in "sherbet" colors. We'll post pictures on Facebook!
Our hours will remain 10-4 Tuesday, Wednesday, Thursday, Friday and 10-2 on Saturday. We will not be having UFO Saturdays or Sharynn's Stitching Friends until further notice.
Sharynn's Quilt Box is an authorized Janome Dealer. We have sold Janome for 25 years and we service on site what we sell. Darrell is our service tech and he has many years of experience. This is something you should consider before you buy a machine. We will also teach you how to use your machine. We have a stock of specialized Janome feet, needles, bobbins, etc. So before you buy, check us out and see what we have to offer.
We are also an authorized Handi-Quilter Dealer. We have 4 of Handi-Quilter's bestselling machines in our shop. Come in and give one a try. They are all on special pricing. Darrell will set it up on your house and teach you how to use it. We carry a large inventory of Handi-Quilter accessories. We offer classes two times a year from a Handi-Quilter Educator. These prices won't last much longer. So come see the possibilities!
At the present time, we are not servicing Husquvarna Viking machines. We are sorry for this inconvenience.
Don't forget to use your coupon from the 4 County Holiday Shop Hop. It expires January 31st. Now is a great time to get a new project started or to finish a UFO.
If you have Facebook, please like and share our posts.