Newsletter - January 19, 2021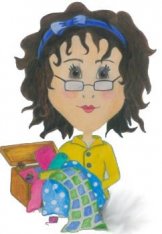 SHARYNN'S QUILT BOX
890 S. STATE STREET
P.O. BOX 1041
NORTH VERNON, IN 47265
812-346-4731
January 19, 2021
So what are you working on? All of us here at Sharynn's are working on our UFOs. We have plenty! Some for the store and some are personal. We are hoping to get some finished up. What about you? We like to make lists…prioritize. Personally, I just want to feel like I've accomplished something! So get into those sewing rooms and start getting them done. Then bring them in so we can see them. We love seeing what you have done.
We are continuing with our current hours….10-4 Tuesday, Wednesday, Thursday, & Friday. Saturday 10-2. If you have trouble getting here during these hours, please call to make arrangements for an appointment. We are happy to assist you.
We still have mask making supplies….elastic in both black or white and drawstring elastic in both black and white. We also have mask nose bars.
We are no longer requiring that you call ahead to schedule your machine for service. But we do not have same day service. Our turn-around is usually 2 days. Also we do not service Husquvarna Viking machines. We are sorry for this inconvenience.
Darrell is highly trained on all Janome machines and Handi-Quilter quilting machines. He has many years of service to our customers. It is a big advantage when you buy your machine from us. We train you and will service what we sell. You can depend on us.
We carry a large inventory of Janome and Handi-Quilter accessories. If we don't have it, it probably can be ordered with a deposit.
Our UPS man was just here!! Left us more Janome 4120s and 3160s! We are so excited as these are our bestselling machines. If you own one you know why. They are light weight about 12 lbs each. Easy to take to class, retreat, or just to take along on vacation! They both feature a needle threader, scissors, start/stop button, and a small table. There are lots of other features also. Come in and check it out if you are in the market for a new machine.
Janome machines are backed by 100 years of building the best machines in the world. And we are here for you after the sale to help you get the most out of your machine.
If you are on Facebook, please like and share our posts.