Newsletter - February 10, 2021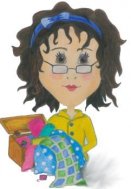 SHARYNN'S QUILT BOX
890 S. STATE STREET
P.O. BOX 1041
NORTH VERNON, IN 47265
812-346-4731
February 10, 2021
Our hours continue to be 10-4 on Tuesday, Wednesday, Thursday, Friday and 10-2 on Saturday. If you are unable to get here during these hours, please call and we will set up an appointment for you.
Beginning MARCH 13th, we will again have Sharynn's Stitching Friends!! After a yearlong interruption, we will begin meeting again. We can't wait to see everyone and everything you've been working on. We will set up chairs and all wear masks and social distance. So please mark your calendar and come and join us. We begin at 9 a.m.
Are you ready to begin quilting your own quilts? We have the perfect machine for you….the Handi-Quilter MOXIE! This machine is 15" of quilting space on an 8' frame. It is a free motion machine with no basting or cramming your quilt thru your regular machine. We have this machine on SPECIAL PRICING…$4500.00! This pricing won't last long and we have 2 in stock. No waiting on shipping. So come in and give it a try. Darrell can show you all the "ins and outs" of this machine. We think you will love it!
Handi-Quilter brand quilting machines are the top-selling longarms in the world. They are dependable, well built and come with a commitment of service that is the best! And Darrell has 12 years experience in selling, servicing, set up and teaching. If you are going to invest in a quilting machine, you want all of this to back it up! Darrell has the knowledge and experience to help you.
We have also received another shipment of Janome 3160QDC-T machines! These are approximately 12 lb machines and have 60 stitches along with other features that are found on more expensive machines. It has needle up/down button, scissors, stop/start button, and many other features.
We have also received the 4120QDC-T. This machine is a step above the 3160 QDC-T with 120 stitches and many other features. If you are in the market for a lightweight machine, come and see what we have.
Summer isn't that far off. Do you go to the Farmer's Market? Do you take your own bag? If so or even if you never have, now is the time to think about making a Market bag with mesh. We have the mesh that you need to make these bags to take along. Check it out!
We want to thank everyone who has used our website to shop from! We appreciate the orders. We try to ship the next day. In these times, we understand that your health comes first. So please feel free to use our website or call us and we'll take your order over the phone. We take Mastercard and Visa.