Newsletter - March 11, 2021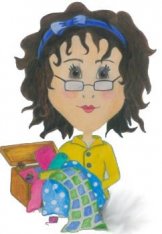 SHARYNN'S QUILT BOX
890 S. STATE STREET
P.O. BOX 1041
NORTH VERNON, IN 47265
812-346-4731
March 11, 2021
We are gearing up for our first Sharynn's Stitching Friends meeting this Saturday, March 13th from 9-10 a.m. This is our first one in a year and we are so excited to have everyone come back. If you were in the club last year you are automatically enrolled for this year. No dues are due! If you were not a member last year, you can enroll by paying $15.00 on the day of the meeting. We have lots of fun with Show 'n' Tell and members share ideas and thoughts. It is a fun hour for everyone. Our meetings are on the second Saturday of each month from 9 to 10 a.m. We also have featured sale items each meeting just for members. We also have snacks, tea and coffee!! So come join us this Saturday, March 13th at 9 a.m. We are looking forward to seeing everyone!
The Charming Shop Hop is a "go" and we are ready to greet everyone for the 15th Annual Shop Hop. It will begin Monday, April 5th thru April 10th. Times are 10 a.m. to 5 p.m. each day.
Participating shops are:
L & L Madison, IN
Margie's Madison, IN
Sharynn's Quilt Box North Vernon, IN
Tree City Stitches Greensburg, IN
Quilter's Nook Versailles, IN
Quilter's Garden Lawrenceburg, IN
Small Town Stitches Seymour, IN
There are lots of prizes to win including a Janome 3160QDC sewing machine.
7 - $25.00 Gift Certificates
7 - $50.00 Gift Certificates
Gift Basket with 70 Fat Quarters
7 In Store Gift Baskets
If you have a passport that you purchased last year, it is good this year and no need to purchase another.
We are so glad to have Pat back on a limited basis. She is recovering very well from hip replacement surgery.